By Rich Hobson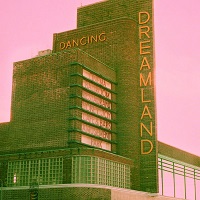 With a name that pretty accurately describes their effect on the listener, London five-piece hyperactive punks Honey Joy are back with their appropriately titled second album 'II'. Like being blasted by a ray of sunshine while on a sugar-rush, the band blast out the speakers with 'Diversion Tactics' and don't let up with their infectiously fun brand of brilliance from then on in. Nine tracks clocking in at under 20 minutes, Honey Joy most definitely subscribe to the ethos that less is more – and you can't argue with the results.
Perhaps what is most surprising is that half of the record was written while vocalist Meg Tinsley was out sick from work with mental health issues, where the other half finds her in a better place and (literally) singing the praises of self-love. The wall-of-sound production behind 'II' makes it incredibly difficult to put into the background, but this also proves to be the record's biggest strength as it howls away happily in the listener's face until they give in to the overwhelming good vibes.
Like The Ramones sped up and fed a steady diet of Shonen Knife at their most frenetic, Honey Joy also find the time across the album's run-time to introduce elements away from punk. 'Queen Ray' has a strut that doesn't feel a million miles from The Rolling Stones, exuding an easy cool that could so easily come from '70s style power pop, complete with roaring guitar lick that feels like it could almost be a TV theme. Even the strains of punk are offered up with variety by Honey Joy. 'Pain' utilises a decidedly grunge-like riff like the missing link between Nirvana and L7, taking a chunky riff and giving it a massive chorus that just begs to be screamed. Elsewhere, 'Part One – The Contagion' has a bouncing riff that would have set Iggy Pop up the walls half a century ago, giving a fresh shot of zest and lightning to make sure you won't sit still whilst listening to this record.
As with so much great music, the sound and lyrics of the songs on 'II' create a disconnect that evokes joy in the music whilst the lyrical message digs much deeper into emotional states and thought patterns. This is perhaps most prevalent on the barnstorming closer 'Saluting Magpies', a tale of angst, unease and anger that manifests as an incredibly fun spring-loaded punk anthem. If the intent of II was to both highlight mental health issues and promote a sense of happiness, you can consider this a masterpiece in what it achieves, roaring to life with a vitality that few bands can match. Keep this one close for those crappy days and you're sure to see yourself right in no time.
'II' is released on 4 September. You can get your copy HERE.
All content © Über Rock. Not to be reproduced in part or in whole without the express written permission of Über Rock.