By Monk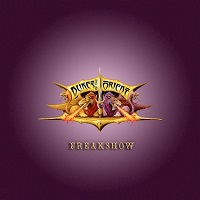 Dukes Of The Orient frontman John Payne will be a talent and a voice well known to fans of that mid-Atlantic prog-meets-AOR style of radio-friendly rock as propounded most especially by the likes of Asia. Which should not be surprising as he also fronted that same band for 15 years, in between John Wetton's departure and subsequent reunion with Geoff Downes, helming the band through six albums and into increasingly muddied musical waters, beset by the storms brought about by decreasing commercial success. Like many artists from that era, Payne initially soldiered on with the Asia name before, out of respect for Wetton following his death in 2017, deciding to place some clear water between his past and present projects…
Dukes Of The Orient trace their roots back to that initial post-Asia period, when, following Downes' revitalization of the band's original 1982 line-up, Payne recruited Eric Norlander to step into the breach created by the keyboard player's decision to revive old glories. The pair soldiered on under the banner of "Asia featuring John Payne", before they penned the then one-off single 'Seasons Of Change', which would eventually resurface on the debut DotO album in late 2017… roll the clock forward another three years and, as if to prove that wasn't a one-off attempt to piggyback the Asia name and get rid of a bunch of previously penned but homeless material, the duo are back with their second offering…
And the first thing that is obvious is just how much it owes to the Asia legacy and that aforementioned mid-Atlantic prog-meets-AOR style of radio-friendly rock, as 'Freakshow' doesn't stray too much from the path that the frontman trod for all those years. It's a formula which, as also intimated above, will be instantly recognizable to fans familiar with Payne's pedigree. You need to look no further than the opening keyboard parp of lead track, and second single, 'The Duke's Return', which actually sounds like a more lightweight version of Magnum than anything else, to the extent that I can close my eyes and visualize Bob Catley's trademark hand gestures during the chorus.
The Dukes… apply one major mitigating differential to their otherwise formulaic approach, and that is the use of saxophone, which more or less takes over the role of the lead guitar on the majority of the ten tracks, being used for bridges, fills and even full-blown solos. It's a factor which really exacerbates the reverential Eighties cinema-rock feel of the album as it progresses. Don't get me wrong, I love a bit of saxophone, but to me it has to be used sparingly, especially in the context of what is supposed to be a melodic/progressive rock album: unfortunately, it's over-reliance – and, dare I say, over-dominance – here makes this sound more akin to a Kenny G album than a rock 'n' roll oeuvre.
Yes, the album does have it's moments, such as the statement-making if slightly too parped-up lead single, 'The Monitors', and Payne's voice remains powerful and impressive, but it also suffers from being over-long – only two of it's tracks clock in at the sub-five-minute mark, while the two close-out tracks, Side A's 'Man Of Machine' (which, to its credit, features one of the album's rare, if all-too-brief, guitar solos) and the decidedly underwhelming finale of 'Until Then', defiantly outstay their respective welcomes, failing to strike that prog-meets-AOR balance by tipping it in (dis)favour of the former.
A disappointingly disappointing release from a pair of undoubtedly talented musicians and songwriters who seem to have expended too much effort looking at how they can cash in on their legacy rather than capitalizing upon it.
'Freakshow' is out now. You can get your copy HERE.
www.facebook.com/Dukes.of.the.Orient
All content © Über Rock. Not to be reproduced in part or in whole without the express written permission of Über Rock.