By Jim Rowland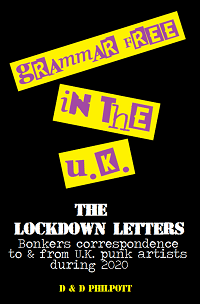 Following on from 2015's 'Dear Mr. Kershaw: A Pensioner Writes' and 2018's 'Dear Mr. Pop Star', bonkers compendiums of letters supposedly written by a disgruntled pensioner to various pop and rock stars, berating them for lyrical mishaps or song title inaccuracies, along with their genuine replies, comes a third instalment, 'Grammar Free In the U.K. – The Lockdown Letters'. This time said disgruntled pensioner Derek Philpott with his son Dave don safety pins and bondage trousers to focus their frustrations purely on punk bands.
So, for now, 'victims' from the worlds of pop, metal and prog have been put on ice in favour on an illustrious and diverse roll call of artists from the world of punk. Taking part are members of big-hitters such as Cock Sparrer, Cockney Rejects, Subhumans, Angelic Upstarts, Rezillos, Peter & the Test Tube Babies, GBH, UK Subs and Ruts DC, alongside cult legends and pioneers like Eater, the Vibrators, Slaughter & the Dogs and the Lurkers. Aside from the bigger names, the author also digs a little deeper to harangue representatives from the likes of The Stiffs, the Mekons, Hagar the Womb, Disorder, Chaos UK and Rubella Ballet, so this has been well researched. In addition, Gang of Four get a beating on behalf of the post-punk community and the likes of the Witchdoktors represent the slightly younger generation.
With 66 different letters and replies to choose from, there's a whole lot to flick through at your anarchic leisure. NI punk is well represented with former SLF guitarist Henry Cluney getting a bit philosophical about where 'nowhere' actually is, whilst The Defects have to resort to discussing the clearing up dog poop. Over in Scotland, The Rezillos' Fay Fife has to defend herself from allegations of wilfully endangering young children by giving them access to sharp modelling implements in '(My Baby Does) Good Sculptures', and in England UK Subs legend Alvin Gibbs offers a small essay in his reply discussing the finer points of the living dead. One of my favourite moments is the brief P.S. comment to Eater, suggesting it may be a good idea for Eater to tour with Feeder!
So you get the gist: as with the previous two books, it's all gloriously silly stuff, this time with punk attitude. The actual design of the book has gone up a few notches compared to the previous two, looking great thanks to the involvement of the real Viki Vortex and Cock Sparrer/Argy Bargy street punk Daryl Smith in the art and design department. So, in this case Mr. Philpott, I have to say Oi! Oi! Stop that, it's silly.
'Grammar Free In the U.K. – The Lockdown Letters' is reportedly selling like hot cakes, but you can get more info and order your copy HERE.
All content © Über Rock. Not to be reproduced in part or in whole without the express written permission of Über Rock.