By DJ Monk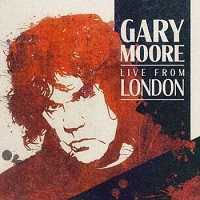 Growing up in Belfast, it was hard, if not impossible, to ignore Gary Moore. After all, he was born something like a mile from ÜRHQ. He was a prodigious talent, one of the few guitarists, if perhaps the only one, able to turn his hand from classic rock to the most heartfelt of blues, from progressive jazz to nascent thrash with an ease that most of his predecessors, contemporaries and successors would happily sacrifice their own beloved Les Pauls to achieve. Released almost on the eve of the ninth anniversary, at the tender age of 58, of his untimely death, 'Live From London' captures the 'Belfast Boy' on one of his last ever live performances, and a fittingly timely reminder of his supreme talent it is indeed.
While not showcasing Moore at his consummate best, it is the best of Moore, not quite at the height of his powers but still a powerful performer capable of captivating and entrancing an audience and wringing every ounce of emotion and passion from his instrument. He was one of the very few musicians who could actually make his guitar sing louder than he himself could, and this performance shows him doing so with his usual ease.
I said that this is not Moore at his best: but, even when just slightly below par, Moore could eat up and spit out most guitarists, and 'Live From London' exemplifies why. From the ferocity of opener 'Oh Pretty Woman' and 'Since I Met You Baby' to the languorous interpretation of 'Have You Heard' and the mournful solemnity of 'I Love You More Than You'll Ever Know', Moore not only pays due homage to the heritage of the blues but exemplifies why certain latter day pretenders do not have the ability to not just follow in his footsteps but tie the laces on his trademark Converse boots.
There's a reason I say this is not Moore at his best: and that is because it is merely a recording. Nothing beat standing in the front row, watching the maestro up close and personal as he wrenched that guitar neck and pulled those gurns. But, having said that, this is most definitely the next best thing. It is hard to listen to the sublime performances of the likes of 'The Mojo (Boogie)', 'I Love You More Than You'll Ever Know', 'Still Got The Blues', 'Walking By Myself' and, of course, the epic 'Parisienne Walkways' without not only raising your voice high and reaching for the nearest air guitar but also shedding a tear in memory of one of the greatest guitar players to have a graced our lives. RIP our Belfast Boy. You are always in our hearts.
'Live From London' is released on 31 January.
Über Rock is hosting a special 'Gary Moore – Ten Years Gone' tribute concert, featuring Pat McManus and some very special guests, on Saturday 6 February 2021, at Limelight 1 in Belfast.
All content © Über Rock. Not to be reproduced in part or in whole without the express written permission of Über Rock.