By DJ Monk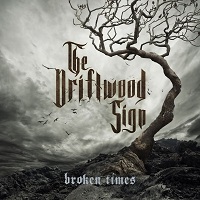 I must admit that when I got half way through 'What Is Real', the opening track on this, the debut album by Swedish hard rockers The Driftwood Sign, I found myself asking "why the fuck am I listening to the new Alter Bridge album? And did that not come out months ago?" The problem was that, especially on that first song, frontman Anders Ekenstierna sounds so uncannily like Myles Kennedy he could be his vocal twin, while Adam Nilsson's imitation of Mark Tremonti's tonality is nigh on perfect. They say that first impressions are important, and, to be honest, this was not a good early reference point for yours truly…
Fortunately, things change, if even ever so slightly, as 'Broken Times' progresses, and develops into a very worthy if, in places, somewhat unimaginative and laborious listen. There is no doubt that the quartet have spent a long time crafting their sound – the album has been almost a decade in the making after all – and therein lies its major problem, because it shows. It is too precise in every department. Every aspect of the album is over-produced, taken to within an inch of its natural life and then tweaked even further, resulting in an ultimately soulless listening experience.
Yes, Ekenstierna undoubtedly has an amazing voice, rich and strong, but there is just something missing in the delivery of both the vocals and the rest of the musical performances. It's all a bit too formulaic, staid even, lacking in genuine passion over-ridden by technicality and the need to produce the best possible sound, at the expense of the aforesaid passion. A case in point is the power ballad 'Faceless', which just sounds flat when it should be tugging at your heart strings in the best tradition.
It's a real shame, as the performances are otherwise exemplary, and the songs are decent in their own rights (with the exception of the downright awful 'Nowhere To Run'). And there are a few shining lights, such as the Volbeat-infused title track, which truly exposes that the band possess. Overall, however, it's just over-produced, over-refined and touches too many musical bases, such as the mis-matched Metallica reference at the beginning of 'Hope'. Maybe next time the guys could look at spending less time in the actual studio and produce something with much needed spontaneity.
'Broken Times' is released on 24 January. You can get your copy HERE.
www.facebook.com/thedriftwoodsign
All content © Über Rock. Not to be reproduced in part or in whole without the express written permission of Über Rock.