By Jim Rowland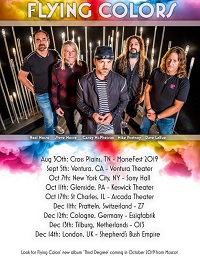 Flying Colors returned after a five year hiatus this year with their third studio album 'Third Degree', and as with their previous two tours, a relatively short tour of select dates across Europe, culminating in tonight's sold out final show of the tour, the only UK date, which is being filmed and streamed live. With the stalls converted to all seated for this show, the capacity of the venue is therefore reduced, but every seat from bottom to the very top balcony is taken.
Flying Colors are often referred to as a 'prog supergroup', and with Mike Portnoy, Dave LaRue, Neal Morse and Steve Morse in the band, there's no shortage of virtuoso musicianship on offer. Now history has shown us on occasion that if you have a prog supergroup full of virtuoso musicians, the end result can be a cacophony of endless noodling and musical wanking where the musicians are all trying to outdo each other at the expense of actually having any decent songs.
Fortunately, that has never been the case with Flying Colors right from the first album onwards, and with the considerable talent of Casey McPherson on vocals, Flying Colors have shown tasteful restraint to produce some wonderful sophisticated pop/rock songs along the way, such as 'Kayla', 'Forever In A Daze', and the new album's 'Geronimo', all on offer tonight. In fact, to simply label them as 'prog' is I think a bit misleading, as although there is an undoubted prog element to some of their material, there are just as strong hard rock and pop elements in there too.
Material from the latest album makes up a fair chunk of the set, with the likes of 'The Loss Inside', 'More' and 'Crawl' sounding impressive alongside older tracks like opener 'Blue Ocean', 'A Place In Your World' and 'Peaceful Harbor'. 'You Are Not Alone' provides a poignant moment as McPherson talks of his levelling experience of taking part in the rescue operation in the recent Texas floods, which the song addresses. Of course there's still time for the more prog-oriented and lengthy 'Infinite Fire' and 'Cosmic Symphony', which close the set and open the encore respectively, and hugely impressive they are, as is the final encore, another great song, 'Mask Machine'.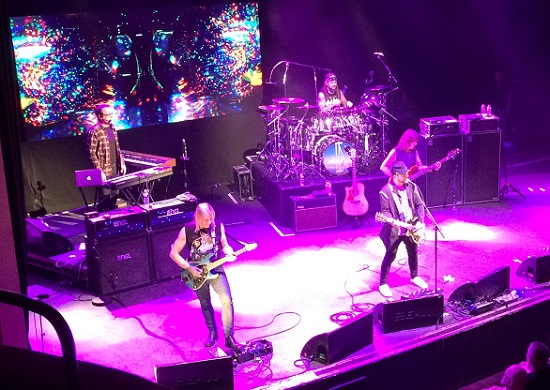 I can't let this review go without mentioning a hilarious security faux pas that occurred. As the stalls were seated, there were two aisles on either side, and towards the end of the set Casey McPherson leaves the stage and walks up an aisle singing and shaking a few hands. He reaches the top and, still singing, turns round and casually walks back towards the stage, only to suddenly be accosted by an overzealous security guard, who really can't have been paying any attention, who tries to usher him away. It takes another security guard to intervene and remind him that he's actually accosting the singer! Priceless. I'm not sure whether the band saw the funny side or not.
As Mike Portnoy pointed towards at the start of the set, a Flying Colors gig is a rare sighting given the relatively small number of shows they play, so those here tonight were privileged.
PHOTO CREDIT: Photo by the author.
www.facebook.com/flyingcolorsofficial
All content © Über Rock. Not to be reproduced in part or in whole without the express written permission of Über Rock.