By DJ Astrocreep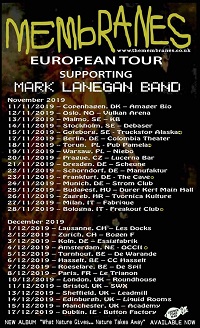 A gruesome twosome for this evening's entertainment lay in store for me, as I risked the numerous train cancellations getting across to catch Mark Lanegan with post-punk hellraisers The Membranes in tow. The venue is once more Manchester Academy, a venue I have frequented probably more than any other this year in my quest for my yearly century of gigs. Braving the cold and lack of trains, I make my way across to see what would unfold…
The Membranes show their faces to no fanfare, as it takes people around me cheering for me to glance over and notice. The crowd is looking pretty sparse to start with, though this thankfully grows continuously through the set. The audience seems almost split in two, the front half clearly enjoying themselves as they dance away, while the rear half have the occasional head nod but seem fairly apathetic for nost of the set. John Robb and co are still an engaging act, even after a few line-up changes over the 42 years since their inception, with John finding it nigh on impossible to stop moving while handling double duties om bass and vocals. They do gradually win over more people with what comes across as an almost psychedelic take on post-punk at times, with songs like 'Deep In The Forest Where The Memories Linger' and 'Black Is The Colour', sat adjacent in the middle of the set, proving to be high points in a suitably strong set, showing there is plenty of life in the old punks yet. An excellent performance which sets a high bar for Mark Lanegan to adhere to.
Mark Lanegan has always piqued my curiosity, with the distinctive deep gravel he contains within his voice, leaving me wondering if he gargles with cat litter 18 times a day, just so he can maintain the deep, Leonard Cohen like tone he seems to have come so naturally to him. He is bang on form tonight, as I find myself closing my eyes at times to let myself be swept away, both by the music and by the soft yet raspy tone he has to his voice. His record with band speaks for itself, so his pedigree is not in doubt, but can he do it on a cold winter's night in Manchester? The answer is a resounding yes. His deep voice is so soothing that I actually almost feel so relaxed that I could sleep in the venue – not from any form of boredom, just the sheer tone and ability he has at such low octaves. The crowd around me seem equally hypnotised, barely moving through the songs before a tumultuous roar echoes out after each track in the very brief spaces we get between them, given the relentless manner with which the entire band approach the set.
It's actually hard to pick out high points of such a well performed, tight set, but perhaps only just edging themselves out from the rest of the pack are 'Disbelief Suspension', 'Penthouse High', which strikes me as very reminiscent of the latest No-Man release, and 'Gazing From The Shore', all from his latest album 'Somebody's Knocking' released barely two months prior to this evening. It's a testament to how strong this new material is that it's these tracks I take a mental note of when we have tracks going back a number of releases, with the new tracks forming a third of the setlist, though that well blended that I have to check my notes a couple of times to ensure I haven't cocked up somewhere. The band behind Mark are all immaculate in their delivery, ensuring that the whole performance, laid back and bluesy as it is, goes so smoothly that the approaching two hour set seems over in the blink of an eye, the sign of a remarkably played set.
The tour continues at the Button Factory in Dublin tomorrow (Tuesday 17 December) and finishes at the Empire Music Hall in Belfast on Wednesday (18 December).
All content © Über Rock. Not to be reproduced in part or in whole without the express written permission of Über Rock.