By Jason Walker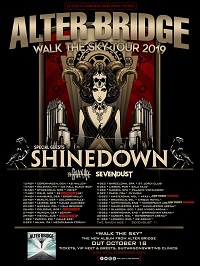 Today's gig finds me in Manchester's epic Arena, a truly awesome venue that boasts one of the biggest audience sizes for an indoor arena in Europe. This will be the third time I've seen Alter Bridge in this same venue and I'm every bit as excited as I am the first time I saw them.
Stepping into Sevendust's slot at extreme short notice, The Raven Age are already going in hard with epic riffs and tasteful guitar playing that are very much a mainstay of a lot of modern hard rock and metal. Some of the latter songs they spent in their set feel very much like Bullet for My Valentine's take on metalcore, using chugs peppered with wailing guitar melodies.
The Raven Age are oozing style on the Arena's massive stage, the harmonising vocal melodies they're using sound bloody great. They definitely seem to be a fan of slick harmonised guitar playing too, and I love it, any fans of Trivium and BFMV will know what I mean. The crescendo of their set finishes with some brutal double bass pedalled riffs and palm muted melodies all over the shop, this is some seriously tight song writing in action. Looking over the crowd it seems apparent that they're playing to an audience that doesn't really seem to know them too well so hopefully they'll have made new fans here tonight.
It's been a long time since I've seen Shinedown, oddly enough in this same venue, also supporting Alter Bridge. This intro is bananas, after some bombastic soul song, they follow it up with some sort of American game show introduction. Getting straight into the nitty gritty of their deep south blues laden sound, they seem like a different beast entirely from the last time they were here! Their sound is absolutely thunderous, every part of the band is clear and crisp and the crowd is looking a lot more enthusiastic.
Every song finished is met with rapturous cheers and applause, if there's one thing I'm quite glad about is the singer seems to have dialled back the soapbox speeches a bit. Audience participation is something they're fantastic at, part way through they begin throwing merch into the audience including using a spud launcher to get it all the way to the back of the standing area. But there's no stopping yet, he's ran into the audience crowd and back to the stage then, on his command, he's got literally 10,000 people jumping!
Between the bouncy bluesy rock and audience participation stuff, which at one point leads him to request everyone using their phone lights to the tune of a ballad, Shinedown put on a really slick show. Dropping in Oasis's 'Dont Look Back In Anger', they're very much performers as well as music artists and it really shows that they love what they do and honestly even if you aren't a fan of theirs, I'd urge you to see them at least once.
You can see right off the bat the screens that Alter Bridge have got set up, it looks incredible! I'm super excited to hear the new album tracks as well as some of their older bangers! The contrast of their simple stage setup vs the massive screens and light shows behind them are very jarring to say the least.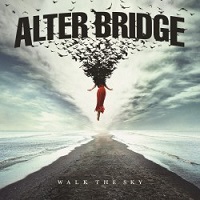 Myles's voice booms over the arena, a somewhat lukewarm response to the first song which is the opener from their latest album. Following up with a favourite of mine from 'AB III', 'Isolation', which gets a much better response from the audience with much more waving arms and general movement.
Admittedly it seems they're leaning really heavily on older material, another old favourite of mine later on with 'Ghost Of Days Gone By', a fantastically more heartfelt sing-along tune. So far the sets been way more spread than I thought it'd be, not that I'm complaining about that!
Honestly so many things are on point for this show, the sound is wonderfully balanced, the light show on its own merits is fantastic and epic and the videos playing on the smattering of screens behind them make the stage feel gigantic. They drop another banger in the form of 'Cry of Achilles' – 'Fortress' is outright my favourite album so anything off there is fantastic. I can imagine choosing songs for their sets gets more difficult with each passing album release, not only are they several albums into their career, they have a habit of having a ton of tracks on each of them. I was expecting a few more tracks from the newest album, admittedly, but I think we'll probably see more of that when they come back, which is hopefully soon. Closing the main set with probably their biggest favourite, 'Metalingus', the crowd screams back every lyric right back at Myles.
As you'd expect with these shows, a brief break and back for the encore with one of my favourite tracks from their latest, 'Godspeed' and following it with another banger from Fortress, 'Addicted to pain'. Alter Bridge truly are a band that offers very little in the way of gimmicks but makes up for it with smashing out a long list of incredible songs from their back catalogue, the stage and lighting show was similar to the setup they used on their previous tour in support of 'The Last Hero' and it's used to great effect.
The tour continues at the SSE Hydro in Glasgow tonight (Tuesday 17 December), the Birmingham Arena tomorrow (Wednesday 18) and the Motorpoint Arena in Cardiff on Friday (20), finishing at the O2 in London on Saturday (21). Alter Bridge return to the Über Kingdom next summer, when they support Iron Maiden at Belfast's Ormeau Park on Monday 15 June.
All content © Über Rock. Not to be reproduced in part or in whole without the express written permission of Über Rock.