Written by Tim Bolitho-Jones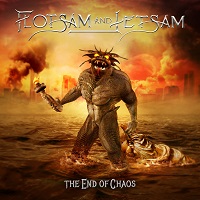 Despite the connotations of its name, 'The End Of Chaos' is not the conclusion of Flotsam And Jetsam's career. It might suggest a swansong but these 12 raging anthems make the Arizona veterans sound enthusiastic and hungry. It's classic thrash that's absolutely bursting with energy and while they're probably destined to remain something of a cult act, there's no reason why any self-respecting headbanger shouldn't enjoy this.
If you're not familiar with the quintet, they deal in fast-paced melodic metal. Flotsam And Jetsam definitely aren't from the heavier end of the thrash spectrum and if they slowed down just a fraction and added a keyboard player, they could pass for a power metal group. Frontman Eric "A.K." Knutson has a very distinctive set of pipes and his air-raid siren rings loud and clear on every track. All the lyrics are perfectly legible and the choruses easy to bellow along to, meaning 'The End Of Chaos' is nicely accessible. Fans of the more recent Anthrax albums will find plenty to enjoy and they'd also fit in alongside like-minded European acts such as Angelus Apatrida or Artillery if they didn't screw up the alliteration.
As for the songs themselves, there's a hearty selection of cuts that'll fit nicely into their live setlists. Opener 'Prisoner Of Time' is a hook-laden barnstormer that's so catchy you'll be singing along to it before finishing the first listen. 'Prepare For Chaos' and 'Snake Eye' meanwhile are fist-pumping earworms, each one packing some quality guitar work while 'Survive' is a soaring anthem, boasting a truly phenomenal vocal performance from Knutson.
Not all of it is a winner admittedly, the placing of 'Control' and 'Recover' on the track listing for instance was a mistake. Both songs are unremarkable thrash-by-numbers and they're right at the start of the album where they can do the most damage. Thankfully though, they flash by quickly enough and once you get past them, there's riches a-plenty. 'Demolition Man' for instance is a storming and upbeat highlight, while the appropriately titled 'The End' is an electrifying finish.
This late in their careers it's unlikely that Flotsam And Jetsam are going to conquer the world but 'The End Of Chaos' does show there's enough fire in their bellies to keep raging into their fourth decade. A few minor missteps aside, it's packed with tightly -written and well-executed thrash. If you've already devoured the discography of the Testaments and Kreators of this world, you could do a lot worse than check out this eternally underrated group.
 'The End Of Chaos' is released on 18 January. You can get your copy HERE.
www.facebook.com/flotsamandjetsam.official/
All content © Über Rock.  Not to be reproduced in part or in whole without the express written permission of Über Rock.