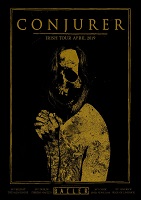 Rising Midlands riffers Conjurer have confirmed that they are crossing the Irish Sea for the first time, with a string of dates on both sides of the border over the Easter weekend.
Dates are:
Thursday 18 April – Belfast, The Palm House
Friday 19 April – Dublin, Fibber Magees
Saturday 20 April – Cork, Fred Zeppelins
Sunday 21 April – Siege Of Limerick
Support on the Belfast, Dublin and Cork shows will come from Bailer. Other acts so far confirmed for the Siege Of Limerick include Bailer, Molarbear, Lock Horns, Marabou, Dead Witches, Funeral Horse, Elder Druid, Slung From A Tree, Tooms, From The Bogs Of Aughiska, Crimson Throne, Molekh, Third Island and Horrenda.