Written by Jonni D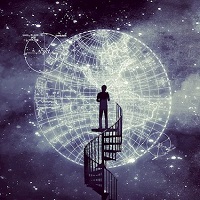 Yet again, another British three-piece has emerged to demonstrate the strength of modern rock music on this side of the Atlantic.  This time it's Glasgow's Atlas: Empire, with an album so textured and densely layered that it's hard to believe this is only their debut. 
'The Stratosphere Beneath Our Feet' has as much to offer to the prog rock aficionado as it does to the alt. rock fan, not dissimilar in that regard to Coheed And Cambria.  The immediacy and command of opener 'As Yet Unwritten' is staggering, the trio setting their stall with inventive staccato cleanly picked riffing before indulging in the evocative swelling ambiance that ensues.  This remains the status quo for much of the record.  However, that's not to say there's any sense of monotony; rather, that the songs found here fit so remarkably well as a whole that it's all too easy to fully immerse yourself in the elegance of the arrangements.
There are of course ebbs and flows to 'The Stratosphere Beneath Our Feet.'  While the opener recalls the glory days of mide-noughties Circa Survive and their penchant for soaring lead guitar melodies in love with a delay pedal, 'Diminishing Returns' adds a touch more crunch to the riffing, while 'The Moment We Were Exploding' allows the vocals to have a more dominating moment.  That said, the standout track is easily the sweeping, mostly instrumental eight-and-a-half minutes of 'The Entire History Of You', reaching levels of impeccable sonic grandiosity before a languid come down.  It's part atmospheric Deftones, part Anathema at their more uplifting, but entirely cohesive and exquisite.
Brimming with stunning displays of ethereal melodicism,  Atlas: Empire have delivered an assured debut that deserves to be considered alongside the best of British progressive music.  It's undeniably an album defined more by it's atmosphere than it's accessibility, but the patient will be rewarded in dividends.
'The Stratosphere Beneath Our Feet' is out now. You can get your copy HERE.
All content © Über Rock.  Not to be reproduced in part or in whole without the express written permission of Über Rock.