Written by DJ Astrocreep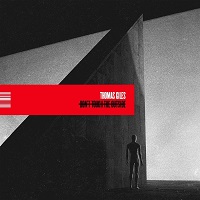 For some reason, I got the longest writer's block when trying to review this album and I'm not sure why. It's a superb album, though not one that flows completely start to finish. Thomas Giles is both highly experimental and incredibly talented, as has been shown over countless years for both his solo projects and his writing for Between The Buried And Me.
There are several different feels to the album, rather than it feeling like one cohesive unit, like the majority of his releases normally do. Earlier in the album, we have a somewhat more accessible section, before hitting an experimental and almost Industrial section, before going a lot more laid back for the end. I even had the chance to talk to Thomas about this after a few listens!
Album opener 'Church Friends' was an immediately likeable and accessible track to me, though it's not as much an indicator for the rest of the album as I at first believed, given the aforementioned different feels to tracks across the album, while 'Incomplet' and 'Milan' – featuring Kristopher Rygg of Ulver and Arcturus fame – are very much along the same lines as 'Church Friends', in terms of their sound and feel. There's very much a post-Jim Martin Faith No More feel to these three tracks and quite possibly how I got straight into them, given that Faith No More sit as one of my favourite bands.
The ambience goes a lot more electronic, almost trance music like in its smoothness and relaxed nature for the next couple of tracks, before 'I Win', with vocalist Carley Coma of Brooklyn based experimental band Candiria, goes a lot darker in its vocal style, with repeated screams designed to throw the listener into a state of unease, working well at its task. 'Awake From Death' ushers us back into safer soundscapes electronically, before a couple more Faith No More style tracks in 'Sway', 'Mr Sunshine' and 'Weather Moods/Start Panic'. A final return to the laid-back electronic mood with our final three tracks puts the finishing touches to a good album.
For once, I don't have any real gripes about the album. I expect something different from an artist like Thomas Giles and we certainly have that here. We have some tracks that are immediate earworms, others that took a couple more listens to fully appreciate and a variety of soundscapes on the album to appeal to a variety of people. It's an exceptional album that I would highly recommend to a lot of people, as its complex enough to keep Tommy's proggier following happy, but experimental and electronic enough to appeal well beyond the normal borders of his band work. It barely missed out on my top 20 of the year to his band's 'Automata' release, but in some ways is better than it – such is the depth to this work and writing ability.
'Don't Touch The Outside' is available now. You can get your copy HERE.
www.facebook.com/thomasgilesmusic/
All content © Über Rock.  Not to be reproduced in part or in whole without the express written permission of Über Rock.