By DJ Monk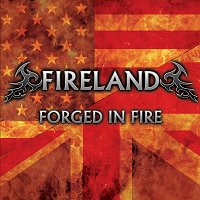 Guitarist Steve Moore will be better known to regular ÜR readers as the lead shredder with Belfast power metal crue Stormzone, and perhaps more latterly as the one-time touring guitarist with hard rockers Maverick. But, for the past 16 years, he also has been very firmly at the helm of another project he proudly calls his own – and that is Fireland, who have now emerged from the darkness of studios on either side of the Atlantic (vocalist David Brown is American, and should be familiar to long-term readers through his work with Chaos Frame) to enrapture us with this, their third full-length album and fourth release overall.
Now, I'm (hopefully) friends with Steve Moore, and have been for many a year, so I trust he will take my comments on his latest pet project in the spirit in which they are intended, and that is that of honest assessment. So, with that in mind, the first comment I have to make is that fans of his "other band" will readily identify with Fireland's sound, as it does not stray too far from the power metal path which the guitarist has followed throughout the careers of both projects. There are also other similarities, especially in some of the lyrical references, which, in the best power metal style, encompass subjects as mythology, war, witchcraft, etc.: what they do avoid, however, is Stormzone vocalist Harv's propensity on drawing on Irish myths and legends for many of his poetic themes. And here endeth the comparisons between the two projects ("thank fuck for that", I can almost hear Mr Moore mutter)!
As hinted, 'Forged In Fire' is very much what you would expect from a power metal album: big, bold, bombastic, packed to the rafters with fast 'n' furious riffs – opener 'Evil Voyage', for example, accelerates out of the speakers like Iced Earth on steroids – shredding solos, infectious melodies coupled with rousing choruses and anthemic moments than want you to raise your lighters in the air while simultaneously banging your neck till the muscles snap. There's nothing that's going to break new ground, but then I don't think that is the intention: that is purely and simply to produce a highly listenable and enjoyable heavy metal album combining all the elements of the genre that we know and love. And, in fulfilling those objectives, and ensuring that any temptation to hit the skip button is delivered of a sharp New Rock-clad kick in the gonads, 'Forged In Fire' ticks all the boxes. And emphatically so.
'Forged In Fire' is released on Saturday (1 June). Check the band's Facebook page for further details.
www.facebook.com/firelandmetal/
All content © Über Rock. Not to be reproduced in part or in whole without the express written permission of Über Rock.