By Rich Hobson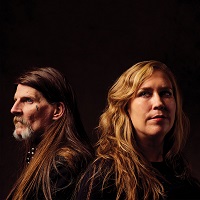 Nobody has mastered the art of the slow burn quite like Earth. The top of the game when it comes to minimalistic post-rock, the band have managed thirty trips around the sun whilst maintaining an exceptional high-quality in the soundscapes they create, building a legacy one brick at a time and proving that you don't need to come charging out the gates to make an indelible mark on the rock n roll landscape. 'Full Upon Her Burning Lips' marks the ninth studio effort from the instrumental act, keeping things as steady and powerful as ever as they push the boundaries of what post-rock can achieve.
Shedding the drone metal abrasiveness of their early recordings, the band instead go for total clarity on 'Full Upon Her Burning Lips', the clarity of each instrument and bright tone more akin to stoner or southern rock than what you'll be used to in the drone or post-rock communities. But that's the beauty of it – this is a band that knows how to paint with sound, and does so without reservation, using the fullness of style and sound to communicate directly with the listener. Through repetition each song drills steadily into the brain, the grooves and rhythms etched into your bones over time as each track unfolds.
This is a sonic journey in the same vein as a movie soundtrack, richly layered to accompany a story whilst still communicating its own message. The dust and dirt of each song is palpable, the elongated notes conjuring the imagery of some western saloon, or sun-blasted plain. The fact that all of this is communicated in bare bones instrumentation is nothing short of astonishing – Earth don't follow so many other post-rock/instrumental types in trying to create hyperactive sonic landscapes to explore; theirs is an endless desert of noise, stretching on for eternity yet offering diversity in its sheer barren nature. This makes more standard riff-driven songs like 'The Colour of Poison' stand out all the more in comparison, the hard-driving main riff of that song feeling decidedly out of place whilst still somehow interacting with the framework that the band have established elsewhere.
Much like fellow soundscape explorers Swans, Sunn O))) or Boris, Earth are not for everyone. The sedate pace of their music combined with the lack of traditional song structures will serve as kryptonite to anyone looking for a fast fix of rock n roll. But for post-rock fans seeking out something with an ocean of depth, making maximum usage of minimalist techniques you needn't look further than 'Full Upon Her Burning Lips', a record which delivers emotional blows across an expansive and somewhat unfathomable distance, sucking the listener in with a sense of finality and decisiveness that few others can match.
'Full Upon Her Burning Lips' is out now. You can get your copy HERE.
www.facebook.com/thronesanddominions/
All content © Über Rock. Not to be reproduced in part or in whole without the express written permission of Über Rock.