By Rich Hobson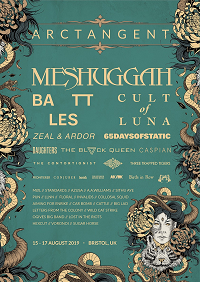 Ever the stomping ground for metal and alternative's most interesting and unique acts, Bristol's ArcTanGent has dropped a massive announcement for some of the bands that will be joining djent godfathers Meshuggah in August.
Topping the list are NY post-rockers Battles, as well as post-metal luminaries Cult of Luna. Black metal experimentalism is in full force as Zeal and Ardor return for the second year in a row, as do blackgaze heroes Møl, both bands having made waves with their fantastic releases in 2018.
A whopping 39-band announcement, the release list also includes the likes of aural terrorists Daughters, incendiary newcomers Conjurer, post-hardcore bruisers Birds in Row and Sweden's premier prog-djent mashup troupe Letters From The Colony. The line-up also features post-DEP bands The Black Queen and Azusa; a welcome treat for anybody missing the maverick group following their 2017 disbandment.
Twinned with sister festival 2000 Trees, ArcTanGent stands as one of the UK's most beloved independent festivals, attracting the weird and wonderful from around the world, earning enough acclaim to land the accolade Best Small Festival at the UK Festival Awards.
Fans of both events can currently purchase a joint ticket for both events, affording them 10% off the total ticket price.
Spread across three days and four alternating stages, ArcTanGent 2019 looks to be as stacked as ever, with plenty more acts still to come. The festival is held from 15 – 17 August. Tickets are on sale now.