Written by DJ Monk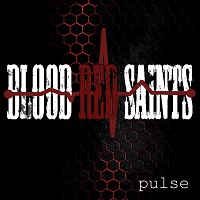 Now, at the very outset of this review, I would like to state that I am a massive fan of Blood Red Saints and get on well with the guys. I first came across them at one of the HRH AOR fests a whack of years back and, despite not being familiar with the band beforehand, was immediately smitten by their highly polished brand of melodic rock. Our paths have crossed a few times since – most recently at last October's Rockingham fest when, despite not being on the bill, the lads rocked up to support the weekend and just hang out with fans and the other bands. Once again, this encounter proved that frontman Pete Godfrey in particular is one of the most affable, and funniest, fellas in this dirty ol' rock 'n' roll game, always smiling and ready to talk to fans (even in the wee small hours of the morning).
With that caveat in place, I have to now confess that I initially found 'Pulse', their third album – released slightly more than a year after that "difficult" second opus, 'Love Hate Conspiracies' – to be a disappointing listening experience.  On the first couple of spins, I felt that there was something missing: call it that vital spark, if you will.  It just lacked the immediacy of its predecessor, which quite rightly garnered the coveted ÜR seal of approval and smashed its way to number three on my personal end of year chart for 2018.
Now, that doesn't mean to say that 'Pulse' is a bad album. Because it's not. Far from it. It is an excellent album. It just takes a while to grow on you. And when it does, it proves to be a mature and thoughtful album across all of its 11 tracks and 47+ minutes.
Opening with a piano/whistle combination, 'Believer' is one of the heaviest tracks the Saints have produced to date, but also one which inevitably draws the Def Leppard comparisons which were so prevalent throughout 'Love Hate…': despite possibly being around the same age group, Godfrey taps into the vein of a young Joe Elliott, while the song as a whole does possess one thing that da Lepps have missed in their most recent output, and that is pure gutsy grunt, especially on the bottom end.  To be brutally honest, once again, just like its predecessor, it is almost impossible to escape the Leppard references which permeate every fibre of the album. The major difference is that the Saints do what they do with much more blood and fire pumping through their collective veins than Elliott and co have managed for more a couple of decades now.
There are also some really radio-friendly moments, the first of which is the stunning 'Cross To Bear', which has a sweeping majesty and one of those earworm hooks that refuses to extract itself once it is lodged. It also features a particularly impressive performance from Godfrey, who once again proves that, along with the above-mentioned charisma, he is one of the best vocalists on the British, if not the global, scene at the moment. It is one of the highlights on an album which, once it gets under your skin and into your aural cortex, possesses narry a weak link (DL references aside).
Persistence does indeed pay off. It is rewarded on this occasion with an album that has been on regular repeat here at URHQ and shows that its protagonists do indeed have their collective fingers on the pulse of the melodic rock sound and the craft of great songmanship. Like its precursor, this no doubt will be in very strong contention for prominence in my end of year selections in 11 months' time. Although, I also have the feeling, given the quality of great music due to be released in that period, they could face some very stiff competition…
'Pulse' is released on 22 February.
Blood Red Saints play Walshaw Sports Club in Bury on Friday 1 March, the Underground in Plymouth on Friday 22 March, The Rhondda Hotel in Porth on Saturday 23 March and Route Forty-Four in Birmingham (supporting Iconic Eye) on Saturday 6 April.
https://www.facebook.com/bloodredsaints/
All content © Über Not to be reproduced in part or in whole without the express written permission of Über Rock.