By Tim Bolitho-Jones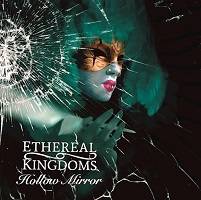 Danish four-piece Ethereal Kingdoms offer a darker take on traditional symphonic metal. They have all the staples of the genre; beautiful vocals, classical flourishes and a sense of overblown theatricality, but there's a nastiness to them you don't normally find. Their debut album 'Hollow Mirror' clearly takes influences from the likes of Epica and Nightwish, but it comes with a more horror-inflected vibe and feels grimly oppressive.
It's also notable for the frankly fantastic vocals of singer Sofia Schmidt. Aside from her impressive orchestral range, she also handles the low register death growls and switches between styles in an instant. You could stick her onstage with Carcass and she'd be able to handle everything, then run next door and do a duet with Jennifer Haben. It's really impressive stuff and she's the absolute star of 'Hollow Mirror.'
This isn't a one-woman show, however, as her co-conspirators know how to craft a song. The likes of 'Beginnings' and 'Ashes Within' are huge, cinematic slices of Gothic melodrama. 'Heartchamber' is an early highlight, a three and a half mini-epic with a hook-laden chorus while 'Silent Dance' is a mix of pure power pomp and unabashed death metal. Play it at the exact moment the sun starts to dip below the horizon and it'll make ravens flock to your garden, guaranteed! (*Editor's note; not a guarantee*)
At times their limited budget does show, but they've made an ambitious piece of work nonetheless. 'Endings' for instance manages to combine some absolutely furious drumming and tormented cries with chanting straight out the Batushka playbook, along with a spiralling guitar solo and a disconcerting spoken-word passage. Need something to soundtrack your anguish while sat in a collapsing CGI cathedral? This'll do the job.
Yes, it's a tad on the pretentious side but that's part of the appeal. If you're dealing with symphonic metal, you don't want the players to hold back and approach it with any degree of subtlety, you want a full-blown baroque pantomime. It's a great album to get lost in for three-quarters of an hour and while the choirs and violins might put a few people off, you can tell they'll be an absolute spectacle live. Plus, even if they do sound like Richmond, the Goth who lives in the server room from 'The IT Crowd' turned into a band, their cover of 'My Kantele' by Amorphis is a banger.
'Hollow Mirror' is out now. You can get your copy HERE .
www.facebook.com/EtherealKingdoms
All content © Über Rock. Not to be reproduced in part or in whole without the express written permission of Über Rock.