By DJ Monk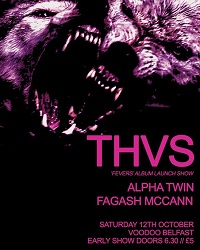 Despite the band having been kicking around the Northern Ireland scene for a good few years, I only came across THVS and their self-styled "heavy pop" musical musings for the first time earlier this year, when they impressively managed to battle their way through to the final of the annual Bloodstock Metal 2 The Masses contest. Obviously, the competition had its limitations for them, in that each set only lasted 20 minutes: so, tonight was a chance to catch the trio in all their headlining glory, as they marked the official release of their acerbic debut album, the appropriately titled 'Fevers'…
Support came from two acts with whom I was completely unfamiliar before this evening – but, that's part of the beauty of this reviewing game – discovering new talent and seeing what they have to offer. First up to the plate, therefore, were the wonderfully named Fagash McCann – not a character from 'Peaky Blinders' but rather a drum and bass (no, not that sort) duo with a self-described passion for "broken amplifiers and floral shirts". They deliver big, thick stoner punk vibes underpinned with a thumping groove and a very bottom-ended sound, with their dense, hypnotic rhythms coupled with equally dark harmonics, accentuated by the fact that the bass often sounds more like a down-tuned guitar. A tasty enough opening (and certainly much more appetizing than the KFC I had to dump in the bin down the street before the gig).
Next up, Alpha Twin are a bit of a curiosity, to my ears anyway. They launch into a massive riff that gets the feet tapping right from the off, and they have a thick grunty tone to their music: however, the vocals are a bit, shall I say, "wimpy" in comparison, not quite matching what is going on underneath them. Their indie-meets-power pop sound does, nevertheless, have enough grungy undertones to maintain interest for the duration of their 30-minute set, which is delivered with plenty of energy and enthusiasm – and, most importantly, extremely well received by the majority of those present.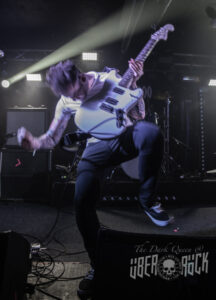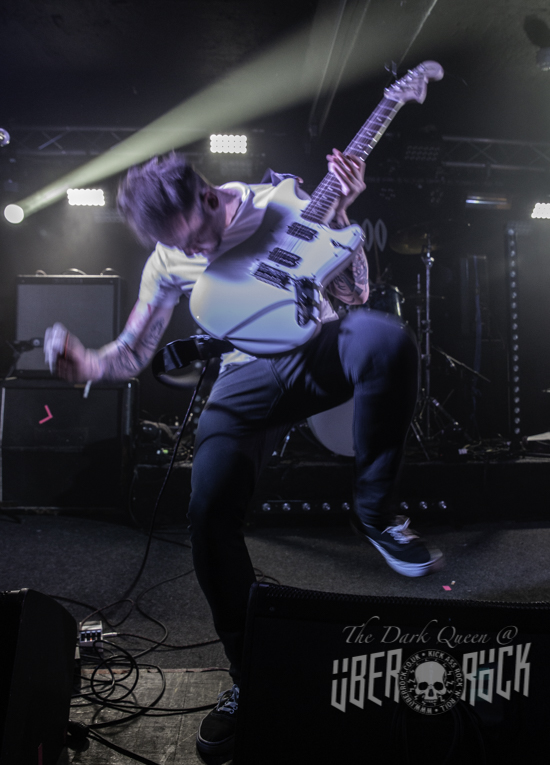 "We're THVS and we play pop music" declares frontman Michael Smyth as the headliners launch into their set, which is basically a straight playthrough of the ten tracks on the abovementioned album. But what is this "heavy pop" of which they talk? Well, it's fast, frenetic punky noise that is infectious, melodic and angry – all at the same time! It's high energy and powerful, with the volume turned up to maximum and the amps switched to "dance you mofos". It's discordant yet joyous, insanely catchy, forcing you to decide between tapping your feet or risking a severe dose of whiplash and all delivered with the passion and the fury of those who genuinely believe in what they are doing. At the end of the set, I'm still not totally sure what "heavy pop" is… but, whatever it may be, THVS play it and play bloody well.
'Fevers' is out now. You can get your copy HERE.
If you want to find out more about THVS and "heavy pop", you can read our recent in-depth interview with Michael Smyth HERE.
PHOTO CREDIT: Live photo (taken at Bloodstock Metal 2 The Masses final) © The Dark Queen/Über Rock.
All content © Über Rock. Not to be reproduced in part or in whole without the express written permission of Über Rock.