By Jonny Bakes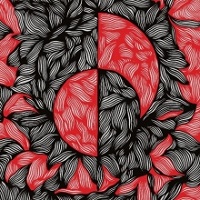 Prog metal, as a genre, seems to offer far more room for experimentation and exploration than most other genres in the metal world. To the point where you can pretty much pick any two bands who fly the prog metal banner and have completely different experiences, but the one thing that tends to unify all of these bands is the complexity of the music. One band who has continually pushed the boundaries with their experimentation is the French quartet, Mantra, who have wowed fans with their ritualistic live shows and concept albums for the last ten years.
This month brings the release of their third album 'Medium' which promises to be something pretty special as it delves into the separation of body and mind begging the question whether the two can truly be separated. It explores this in a manner that I've never come across before… The album consists of three tracks, all of which last exactly 17 minutes and seven seconds. Tracks one and two are called 'Body' and 'Mind' respectively and explore each theme in isolation but the real uniqueness comes in the form of track three, 'Medium', where 'Body' and 'Mind' are overlaid to form this entirely new song representing the unification of the two entities. I can only begin to imagine the level of effort that had been spent creating two entirely standalone songs that layer perfectly together to form a third!
It's pretty obvious from the start that this is an album that requires a little bit of effort to listen to in order to really appreciate what Mantra have developed here. It's certainly not something you'd expect to hear in your local rock club, but that's something that this album never pertains to be! 'Body' and 'Mind' have completely different atmospheres as they take you on an exploration of self, with 'Mind' being the more striking off the two in my opinion. That might be because the way it seems to dig into conscious thought is fascinating and it certainly plays out a lot darker and heavier than 'Body'. Perhaps most impressive is the innovation required to create two unique tracks that are able to be seamlessly overlaid to form a third. Significant effort has been put into the composition, arrangements and even the mixing and mastering to achieve this feat of Prog exploration. That final track, 'Medium', really is quite incredible, the blend of the heaviness from 'Mind' with the relative subtleness of 'Body' creates a real Opeth-like epic.
Musically, this album bears the classic hallmarks of prog metal with musicians who are clearly very technical combining together to form intricate rhythms and melodies. Expect plenty of syncopation and time signature changes from Gabriel Junod on the drums pairing with the excellent basslines of Thomas Courtin. The lyrics of the songs really explore the questions of the deeper meaning of life: Is the body inseparable from the mind? Without one, can the other truly survive? And what remains of us when we die? It's certainly not a light-hearted album, so if you're looking for something light and easy then you may want to reconsider this. However, if, like me, you are keen to really explore those deeper questions through the expression of fantastically intricate music then you need to experience this!
'Medium' is released on Friday (18 October). You can get your copy HERE.
All content © Über Rock. Not to be reproduced in part or in whole without the express written permission of Über Rock.