Words by DJ Monk. Photos by Kerri Clarke.
The name of the venue for tonight's feast of death metal may not have been a new one to me, but the setting certainly was. Until recently, The Speakeasy was located several hundred yards away on the first floor of the soon-to-be-demolished local Students' Union building; however, although redevelopment plans for its former home seem to be temporarily on hold, the SU has found itself scattered to various corners of the Queen's University campus, including what used to be a rather posh Japanese restaurant now stripped back and converted into a pop-up temporary venue…
It's decently laid out, with the stage located in one corner and a bar taking up most of one wall: the only reminder of its previous incarnation is the fact that the toilets are still in the same place! But, that's enough of the scene-setting… we're here for an evening of neck-stretching heavy metal action, not sushi and Sake (although some of the latter would have been much appreciated on this rather chilly autumn evening!).
It must be soul-destroying for a band to pull into a foreign city for the first time and then play to a virtually empty room. But, if it is then Canadian prog metal crüe Becomes Astral certainly don't show it as they take to the stage in front of something like a dozen punters; instead, they deliver a fast paced, tight and extremely technical set, and do so with an easy aplomb, combined with a good sense of humour in the between song banter. It's a long way from Ontario to Belfast for just three songs – but then the last one does clock in at almost 12 minutes and the handful of hardy souls who have turned up early certainly appreciate the effort they put in.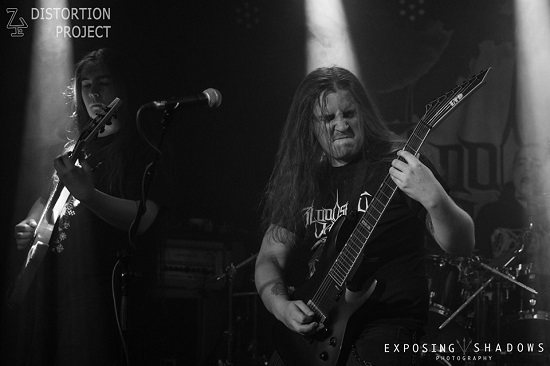 With main tour support Infected Dead not having travelled across the Irish Sea (well, it is one of the most expensive stretches of water in the world), local death metallers Rupturation step up to plug the gap. Now, the last couple of times I have seen the quartet they have slightly "off", not displaying their full potential. Tonight, however? Well, they totally nail it, with the switches on their amps set to "kill" and "take no fucking prisoners".  Their furious blackened DM is tight and precise, leaving absolutely no room for any fucking around of any description. They unveil a new song, 'The Unfathomable Way' (destined for their imminent new album): it's epic-feeling technical DM with traditional Kreator/Slayer-like undertones, especially on the bridge sections. Overall, this is a tight-as-fuck performance which exemplifies what this talented group of young musicians are capable of delivering.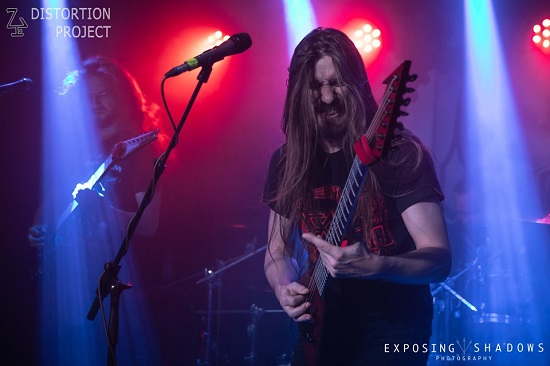 Despite the still relatively small crowd – numbers have swollen to maybe just over the 40 mark –Bloodshot Dawn rip into their set like they are headlining Bloodstock. It's tight and well-practised and delivered with equal doses of intensity and passion. The drums (courtesy of the temporarily returning Janne Jaloma, who is helping out for this particular tour) drill deep, the bass lines roar and rumble, and the twin guitar harmonies interplay and bounce off each other as the quartet deliver a fierce and hugely impressive performance – even if Josh McMorran feels obliged to interrupt it halfway through the setlist to allow some audience members to finish their conversation! When he manages to get a word in edgewise, he jokes about the band having "more merch than there are people in the venue – but that's normal for us", while his own description of the band's sound – "lots of blastbeats and sweeps" perfect summarizes an exemplary set from which the only losers were the so-called fans who couldn't be arsed undertaking the short dander from the city centre to the venue!
The tour continues af Fuel in Cardiff tonight (Wednesday 16 October) and then at the Black Heart in Camden tomorrow (Thursday 17), Scruffy Murphy's in Birmingham on Friday (18) and Temple Of Boom in Leeds on Saturday (19), finishing at the Garage in Glasgow on Sunday (20).
PHOTO CREDIT: All photos © Exposing Shadows. Copyright remains with the photographer.
All other content © Über Rock. Not to be reproduced in part or in whole without the express written permission of Über Rock.