By Jonny Bakes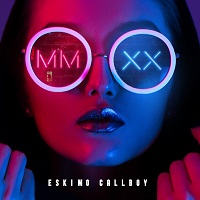 I'll be the first to admit that I'm pretty avoidant of things that are massively hyped. Maybe it's because I'm deliberately obtuse, or maybe it's just because I want to make my own mind up about something without the noise of all that hype? Not that the reason really matters, because I now have to catch up with the hype surrounding the latest effort from German metalcore stars Eskimo Callboy… or should that be the 'Hypa Hypa'?
While many bands found themselves stuck with nothing to do due to the cancellation of Summer 2020, Eskimo Callboy hit the studio for a solid 16 weeks to produce an EP that promises to capture all of the unfiltered energy that originally fueled the band at their inception a decade ago. What they've produced definitely has the potential to dominate rock club dance floors when they reopen as it seems to be a perfect blend of metalcore and eurodance beats. This is an almost deadly combination that results in a strong potential to be a guilty pleasure for many of the more hardened metalheads out there.
And that's a camp that I definitely fall into. This reminds me of the kind of alternative dance music that was playing in rock clubs when I was 18/19 (which before you ask was only about 10 years ago) such as Attack Attack, 3OH!3 and early Enter Shikari. So while this is something I thought I left behind a long time ago, from the first time I finally gave in and listened to the leading single 'Hypa Hypa', I knew that this was going to rattle around in my head for longer than I would be willing to admit.
Each of the tracks is a well-blended combination of electronic samples, EDM beats, clean vocals and metalcore breakdowns. There's definitely a demographic that is going to be the primary audience of this, those who want to go out and have the full club experience, but without feeling that they have to leave their "alt-ness" at the door, and that's something it does very well. Every track is absolutely bouncing with the exception of the final track 'Prism' because every big party ends up with a comedown at the end of it, and this gives the perfect chilled out ending to the party-fest that is 'MMXX'
Overall, I hate that I like this. Everything about it should not appeal to my usual tastes yet somehow it's got under my skin to the point I can hear the beat to 'Hypa Hypa' bouncing around in my head. And if that's not a testament to how successful this EP is going to be, I don't know what is. Whether you love or hate it, there's no way you will forget 'MMXX' in a hurry and, to me, that's the real sign of success. Let's face it, there's a very good reason that 'Hypa Hypa' has clocked the best part of eight million listens on Spotify and, if you're one of those who has contributed to that, you're going to want to grab the whole EP, because it's more of the same.
'MMXX' is released tomorrow (Friday 11 September). You can get your copy HERE.
www.facebook.com/eskimocallboy
All content © Über Rock. Not to be reproduced in part or in whole without the express written permission of Über Rock.