By Jonny Bakes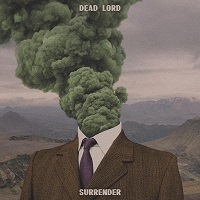 Some albums simply do not fuck around. They will grab you by the balls from the opening note of the intro riff and relentlessly throw you around like a washing machine until you reach the end of the album and find yourself wondering what happened over the last 40 minutes or so. That's exactly the sensation I had when I took a spontaneous punt at Dead Lord's latest release and all-important follow up to their breakthrough album.
Before I explain just why it grabbed me as much as it did, let me share a little theory that I've come up with. I'm convinced that somewhere in the depths of Sweden there is a rupture in spacetime as there has been a fairly recent surge in bands that sound like they've dropped straight out of the 70s. Dead Lord are a band who absolutely come under this banner and are in the same club as fellow countrymen Hällas and Lykantropi who have both dropped albums this year that sound out of their time. Maybe it's just that these bands have a fondness for the golden era of rock music but I think my theory is a bit more exciting than that.
Now that I've got that out of the way, let's talk about 'Surrender' and how it made me do just that from the moment I hit play. Within seconds I've already been hit with a short drum roll and some fantastic harmonised guitar work that sounds almost exactly like Thin Lizzy. Now I fucking love Thin Lizzy so this got me hooked straight away because it is pretty much spot on. If it wasn't for the vocals I would have been convinced that I was listening to the real thing and that's a real testament to the ability of Dead Lord. Each track is pretty upbeat and family friendly in its nature whilst still covering some slightly darker subjects, like 'Respect Authority'. The sound is dominated by the harmonising guitars with an often simple, yet effective, rhythm section backing this up, but of course you would have guessed that from the moment I mentioned Thin Lizzy…
Stand out songs? Well one of them has to be the album opener 'Distance Over Time' as it really does a fantastic job of grabbing your attention. It's fast, upbeat and gives you a very clear idea of what the rest of the album is all about – If you like this track then you can guarantee that you'll love the rest of the album. The next one is 'Messin' Up' which is more of a ballad that reminded me of Lizzy's 'Dancing in the Moonlight' and I'm not sure whether it's just the bassline and drum rhythm that does it, or whether it's the structure of the song as a whole but what I am sure of is that I love it!
So, there we go, if you often find yourself thinking "music ain't as good as it used to be" and yearn for those glory days of the '70s again, then Dead Lord have your back. 'Surrender' is an album that absolutely stands up as a contender for best '70s album released in 2020, which is a category that's far more populated that you might realize… Most importantly, Dead Lord have successfully managed to not only follow up their breakthrough album, 'In Ignorance We Trust', but have excelled above it with this masterpiece. This will be cropping up in my regularly played for a good time to come, that's for sure!
'Surrender' is out now. You can get your copy HERE.
All content © Über Rock. Not to be reproduced in part or in whole without the express written permission of Über Rock.