By Jim Rowland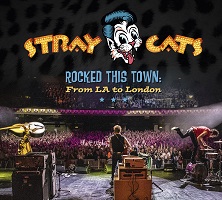 Last year, rockabilly legends Stray Cats returned with their first new album in 26 years with '40', so called as it marked the band's 40th anniversary. It was a great album and a chart success. Following its release, the band embarked on an extensive tour of Europe and the USA, celebrating the album and the 40th anniversary. 'Rocked This Town: From LA To London' is a brand new double live album recorded on various stops during that tour.
The album's track listing pretty much mirrors the whole set that the Cats played on the tour, featuring all the old classic hits, favourite album tracks, a few covers and some key cuts from the '40' album. It does what it says on the tin – a true raw live album as it was played (these guys don't need post-production overdubs), expertly recorded and mixed for optimum sound quality. When it comes to rockabilly rock 'n' roll, Brian Setzer, Lee Rocker and Slim Jim Phantom are all seasoned virtuosos by now and so can breeze through classics like 'Runaway Boys', 'Rock This Town', 'Stray Cat Strut' and 'She's Sexy & 17' to perfection, perhaps even improving on the original versions. The likes of 'Cat Fight (Over A Dog Like Me)', 'When Nothing's Going Right', 'Rock It Off', 'Three Times A Charm' and 'Mean Pickin' Mama', all from '40', prove that despite the 26 year gap, these Cats can stick knock out some quality tunes whilst 'Fishnet Stockings', 'Blast Off', 'Built For Speed' and 'Rumble In Brighton' can still bring any house down.
The album is available in a variety of formats, most notably a tasty blue double vinyl edition, and it's worth pointing out that one track, 'My One Desire', is only available on the vinyl and download editions. A great live band will shine on a live album, if it's well recorded, as it can include that extra little bit of energy, warmth and personality, as well as the improvised nuances, that a studio album can sometimes miss. 'Rocked This Town' ticks all those boxes. If you never liked Stray Cats, this probably won't change your mind, but for fans old and new it's pretty essential. If you saw them on this tour, as I did at the London date in Hammersmith, you'll know what a great show it was, and this is the perfect memento. More than anything, it proves there's plenty of life in the old Cats yet.
'Rocked This Town: From LA To London' is released on Friday (11 September). You can get your copy HERE.
All content © Über Rock. Not to be reproduced in part or in whole without the express written permission of Über Rock.