By Monk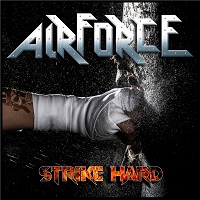 Airforce are one of those bands, such as Battleaxe and the evergreen Raven, who most definitely, and defiantly, can lay claim to being part of the NWoBHM, in that they can trace their pedigree back to those heady days of metal revivalism – especially as they can count among their ranks one Doug Sampson, whom readers somewhat as long, if not longer, in the tooth, than myself, as the original drummer in a wee band by the name of Iron Maiden… It's a stake that is further established by the inclusion of Paul Di'Anno on this, the band's first full-length "comeback" album since their return to action as part of the era revival which has occurred in recent years…
Sonically, like their aforementioned contemporaries and other NWoBHM legacy acts such as Tygers Of Pan Tang and Persian Risk, Airforce don't do much to fuck with the recognizable musical formula of the era, providing markers which are immediately identifiable to both veterans and latter-day explorers alike. The result is 11 tracks of solid, old school metal which doesn't set a foot wrong in terms of delivering both melody and heaviness, harmony and balls to the wall headbanging inducement.
It could be argued that Airforce's sound is too deeply rooted in the era in which it was originally spawned, and has not progressed to take account of subsequent developments in the heavy metal sound; but, I have to be honest, that is part of its charm, because at its core Airforce is three guys – Sampson and fellow band founders Chop Pitman and Tony Hatton (abetted on these sessions by the excellent and highly complementary Flavio Lina) – continuing to do what they love, and that is playing good old-fashioned, honest-to-goodness, no-nonsense, old-school classic metal, very much in the vein of (particularly pre-Dickinson) Maiden, Priest, Saxon and other more successful contemporaries. And more power to their elbows for not losing sight of their objectives and continuing to plough the furrow they first sowed all those years ago.
'Strike Hard' is a solid album from a group of solid musicians. It will appeal equally to those who remember the NWoBHM first time around, and those who have discovered the genre's rich history through the recent, much vaunted NWoCR movement.
'Strike Hard' is out now. You can get your copy HERE.
www.facebook.com/chop.airforce
All content © Über Rock. Not to be reproduced in part or in whole without the express written permission of Über Rock.