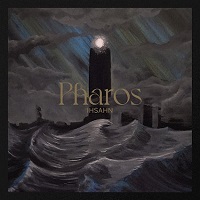 As time goes by, it seems all the more inevitable that Ihsahn will be remembered as one of, if not the foremost figure in the world of extreme metal.  The man's artistic output has not only become increasingly prolific in recent years, but much more nuanced and wide ranging in scope.
'Pharos' is the second of what was intended as a twin set of EPs; the "light to the dark" of 'Telemark' which dropped in February.  The latter certainly had somewhat more of an abiding sinister quality bubbling beneath the surface, but it still had some playfulness thanks to its renditions of 'Rock and Roll is Dead' and the excellent interpretation of 'Wrathchild'.
It's a similar template utilised on this EP as the previous; three originals with the accoutrement of two even more left-field, sanguine covers than last time.  However, as conceptually intended, Ihsahn's own material here is much more uplifting than that of 'Telemark'.  There is almost a feel of desert rock meets 'Load' era Metallica to the opening moments of 'Losing Attitude', before soaring into the swelling europhia of a prog-rock crescendo akin to Anathema at their most overwhelming.  For those who enjoyed the marriage of symphony and electronica on 2018's 'Ámr', numerous listens will benefit.
Spectre at the Feast' boasts an almost baroque pop feel more commonly attributed to artists like Father John Misty than of one of the pioneers of black metal, with it's rollicking keys and uptempo melody, something of a new combination for Ihsahn.  The title track is probably the least notable of the originals on here, although the jazzy staccato guitars and thunderous coda make for enjoyable elements.
Once again, the covers may be the most memorable aspects to both of these EP releases.  Portishead's 'Roads' gets a bit of a sonic steroid boost, upping the inherent percussive DNA of the original with added emphasis on the electronic backdrop.  Einar Solberg of Leprous accompanies Ihsahn for the unexpectedly perfect wildcard choice of A-ha's 'Manhattan Skyline', which suddenly becomes a quintessential goth club banger thanks to some added overdrive and an absolutely stellar vocal performance from Solberg.
'Pharos' continues Ihsahn's habit of only putting his name to worthy material, as well as allowing him to let his hair down with equally successful results.
'Pharos' is released today (Friday 11 September). You can get your copy HERE.
All content © Über Rock. Not to be reproduced in part or in whole without the express written permission of Über Rock.