By Monk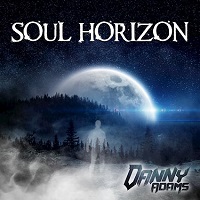 "I WILL find you" declares Danny Adams with heartbreaking intent on the opening, title track of this, his debut solo album, which sees him forsake his background as a respected acoustic musician to go for a full-blown rock 'n' roll set-up… And find us, he does indeed do, as the result is a highly impressive collection of eight songs which also exemplify an artist finding himself in both very personal and public ways…
'Soul Horizon' has a sound that will very much appeal to converts to the recent NWoCR movement, rooted as it is in big blues-infused hard rock riffs couple with massive melodies, earworm harmonies and catchier than C19 choruses which infect in the most gloriously gracious of ways. The likes of 'Blood Letters' and 'The Superheroes' combine hard-hitting hooks with a sense of poppiness that at times belies the overall cyclonic impact of the main mien as they crawl their way into your aural cortexes and refuse to leave with the declarative intent of a recalcitrant squatter behind a barricade of wardrobes.
'Rock Boy' is underpinned with the sort of Manson attitude that young Mr Warner seems to have lost in his most recent output  (and especially the painful and totally mis-titled 'We Are Chaos'), while 'SUCKERPUNCH!' lives up to both its title and use of capitals, with it furious whiskey-fuelled punk 'n' roll garage vibe, coming at you from left and right with a non-stop rain of rockin' blows that both leave you reelin' and pullin' yourself off the floor screamin' for more of the same. He then shows, yet again, that he's not afraid to experiment with sonic styles as he turns things 'Upside Down', successfully, into Alter Bridge-meets-Volbeat territory with the impressionistic penultimate track, which is a mere precursor for the epic 11+ minute finale of 'Unda', which grunts and growls in between bursts of latent alt-rock energy and encapsulates everything which has preceded it in fine style, and in way which sounds half as concise as it actually is.
'Soul Horizon' is a confident, declarative debut. The product of an artist comfortable in his own experiences, and his ability to transfer them to the listener with easy aplomb. The songwriting is exemplary, with the performances – everything is performed by Adams himself – erudite and accomplished, and this launchpad showcases a worthy talent on the cusp of breaking out of the underground and into the mainstream… but, remember, you read about him here first (well, maybe…)
'Soul Horizon' is out now. You can get your copy HERE.
All content © Über Rock. Not to be reproduced in part or in whole without the express written permission of Über Rock.