Chosen by Monk

It's hard to believe that it's been seven whole days since we last awarded our coveted 'Video Of The Week' title, and, despite the ongoing, and some cases renewed, lockdowns in many parts of the Überverse, we are still receiving a healthy bundle of submissions for our coveted 'Video Of The Week' title. Many of them are produced against the background of continuing quarantine conditions in some countries, while others reflect artists being able to return and flex their creative muscles once again.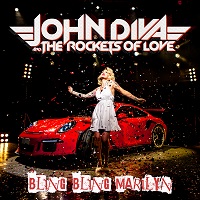 Our chosen offering this week comes from the wonderfully named John Diva And The Rockets Of Love, a band who are no strangers to the pages of Über Rock, as their debut album received a massive thumbs up from our man Gerald Stansbury, whose first experience of the band came via their debut video, 'Lolita', which immediately took him back to the days of David Lee Roth solo albums, Autograph, 'Summertime Girls' by Y&T, etc. Some further research took him to videos of these particular love missiles covering '80s classics at Wacken, which caused him to wonder where exactly the line gets drawn between parody, especially reading Diva's bio, and a new band seeking world domination. However, their excellent debut album, 'Mama Said Rock Is Dead' won over our man in Texas – and I'm pretty sure that their latest single, the first to be lifted from their second album, 'American Amadeus', which is due for due to chase away the winter blues when it is released in January, will equally tickle his, and your, aural tastebuds.
The accompanying video, like its predecessors, is a glorious tribute to the heyday of hair metal and an era when MTV actually broadcast music rather than inane "reality" shows featuring jumped-up talentless wannabe has-beens – a term which definitely could not be applied to Mr Diva and his band mates as they affectionately pay homage to the likes of Aerosmith, Bon Jovi and Whitesnake (especially in the combination of a fast car and leggy blonde), while the song itself inhabits similar territory and is a very tasty appetizer for the new album:
You know you're getting old when landmark anniversaries become increasingly frequent, and it's hard to believe that the mighty Mastodon are celebrating 20 years since their formation. They are marking the occasion with a "new" album, of sorts, as 'Medium Rarities' is a collection of the latter, in the form of covers (including The Dark Queen's wedding march, 'Orion'), soundtrack contributions, instrumentals, B-sides and live recordings. The lead track is 'Fallen Torches', which was originally planned as a stand-alone single release to coincide with last year's European tour, but was delayed while the band concentrated on their 'Stairway To Nick John' tribute album:
The animated video has always been a staple of the audio-visual interpretation of a song, but it is a form which has to be done well, as Tyneside riffmeisters Pigs Pigs Pigs Pigs Pigs Pigs Pigs consistently prove – and do so yet again with the wonderful clip to accompany 'Hell's Teeth', the third single to be lifted from their excellent album, 'Viscerals':
Our penultimate video comes from one of those great bands whose sound is extremely difficult to categorize with thoughtless simplicity, as The Ocean tick so many boxes, including progressive metal and doom in equal measure. However, they must surely fit the description of the Überverse's only paleontological-themed band, as they are about to prove with the release later this month of 'Phanerozoic II: Mesozoic | Cenozoic', the second part of their epic duopoly of concept albums. The latest single to be lifted from the album, which is released on 25 September, is 'Pleistocene', which comes with a video which perfectly matches the claustrophobic and uncomfortable feel of the song itself:
Another track lifted from a forthcoming concept album provides our final offering, as Pennsylvania nu-core groovers Tallah make a return to the ÜR pages, this time with 'L.E.D.', the latest explanation of the twisted story behind 'Matriphagy', which is shaping up to be one of THE cornerstone releases of 2020 when it eventually sees the light of day on 2 October:
Well, there you go. That's your lot for this week. Hope you have enjoyed the new sights and sounds we have brought to you this week. Until next Sunday, keep 'er lit, keep 'er between the hedges and #StaySafe…
All written content © Über Rock. Not to be reproduced in part or in whole without the express written permission of Über Rock.