By Gerald Stansbury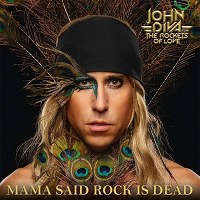 My first experience with John Diva and the Rockets of Love was watching their video for their song 'Lolita' which immediately took me back to the days of David Lee Roth solo albums. Autograph, 'Summertime Girls' by Y&T, etc. Some further research took me to videos of them covering '80s classics at Wacken. It has caused me to wonder where exactly the line gets drawn between parody, especially reading Diva's bio, and a new band seeking world domination. Steel Panther has shown that there is business to be had by being ridiculously over the top, but the joke can wear really thin really fast. Lyrically, Diva avoids the offensive lyrics of SP which is what makes part of this so much more confusing. Sometimes it is best to stop pondering all of this and just dig into the music.
When the first sound you hear on an album is the crack of a whip, it sets a tone… 'Whiplash' immediately transports us back in time to the mid '80s when Aqua Net sales were through the roof, there was no internet and MTV played music videos. The chorus features layered backing vocals and a simple refrain to get stuck in the head. If you do not like hair metal, it is best you move on now. 'Lolita' follows and could easily be mistaken for a song from 1986 in terms of subject matter, style, production, etc., and it is a lot of fun. This is really where the whole thing about being a parody ceases to matter as the songs are just plain fun. 'Rock 'n' Roll Heaven' showcases to me how close current pop country has skirted to old arena rock with the processed spoken vocal and acoustic guitar leading into a pseudo western feel that combines with an irresistible chorus that is the size of Godzilla.
Now, there are moments on this album where things just too clearly touch on songs from the past. I cannot listen to the verses in 'Wild Life' without wanting to sing 'Give Me All Your Love Tonight' from their '1987' album even if the chorus strikes me as different. Dr. Frankenstein has changed the creature and made it extremely catchy with this chorus too. 'Blinded' follows with a cool guitar riff fueling the silliness of being 'Blinded By A Blonde.' The influence here though really strikes me more from the bands that never hit the mega millions in sales (Black N Blue, Bonfire) but were still overly commercial with a keyboard touch added for good measure. 'Dance Dirty' channels some Def Leppard style guitars with huge backing vocals, and the type of lyrics that necessitated the grunge wave and period of self-reflection that followed prolonged exposure to these kinds of lyrics.
This album would not be complete without a power ballad which is where 'Just A Night Away' comes into things. The piano makes me think of Shy's 'Excess All Areas' album, and, while Diva's range can't elevate this song to another level, it provides a big singalong. The guitar solo is relatively restrained as the song's crescendo doesn't quite go to the extremes that it could. 'Fire Eyes' highlights what an 80's drum sound Lee Stingray has with the midtempo pace here providing another nice pace to the album. The guitar work by Snake Rocket and J.J. Love (yes, seriously) showcases some nice chemistry between the players. 'Get It On' gets us back up to full speed hair metal with some early Warrant touches in there as well as some Autograph 'Turn Up the Radio,' although I will say the 'Are You Ready?' refrains make me think of Crown of Thorn's self-titled debut.
'Long Legs' borrows from the likes of AC/DC with a touch of gloss added; it works better than you might think. The chorus is simple and designed for quick impact. Remmie Martin (bass) helps maintain the groove with the basic guitar riff providing color. 'Toxic' once again goes too far in paying homage as the verses pull from Alice Cooper's 'Poison.' This time the band simply broke out the thesaurus for an alternative to 'Poison.' The song is still catchy, but I just wonder why they didn't just simply cover 'Poison' and be done with it. Closing the record is 'Rocket of Love' which waxes poetically about the deeper meaning of life… Okay, maybe not. The song encapsulates all that we have heard though and ends the album in fine style with a song that finds Diva hitting those notes in the chorus like Joe Elliott.
Whether or not I will be playing this album in five years doesn't really seem like the point, I get a blast from the past here without having to think about the state of the world. We know the past 30 plus years have happened, but perhaps John Diva and the guys have spent that time frozen in an iceberg. This album will likely have songs sneak in and out of rotation with me this year. If you are a hair metal fan, this is well worth a listen of your time.
'Mama Said Rock is Dead' is released on 8 February. You can get your copy HERE.
www.facebook.com/johndiva.rocks/
All content © Über Rock. Not to be reproduced in part or in whole without the express written permission of Über Rock.