Interrogation by DJ Astrocreep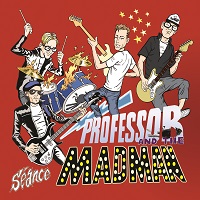 If any band defines the description of a trans-Atlantic punk supergroup, then it most definitely is Professor And The Madman – a composite of some of the biggest names in the genre both here in the Über Kingdom, in the form of The Damned alumni Paul Gray and Rat Scabies) and from across the pond, in the no less notable form of SoCal legends and Adolescents/D.I. stalwarts Sean Elliott and Alfie Agnew.
Two years down the line from their iconic 'Disintegrate Me!' album, the release of which was followed by a (so far) one-off show at London's infamous 100 Club, the quartet reconvened – well, as best they could, bearing in mind recent circumstances – to lay down tracks for its follow-up, the masterful 'Seance', which is coming our way in mid-November.
Taking full advantage of lockdown playing into both our schedules, I managed to catch up with Alfie Agnew for an extended chat – one which turned out to be a lot longer than either of us were probably thinking in advance! Here are some little quotes to pique your interest, though there is obviously much, much more in our 84 minutes of chat below:
On that 100 Club in London, almost 30 years after the first attempt at a ÜK date: …it just oozes atmosphere and history and so for us, it was just absolutely amazing! We came over to play that one show…
On the '60s psychedelic vibe for 'Seance': it's not so tightly themed as [debut album] 'Elixir 1: Good Evening, Sir', which was quite a closed style, whereas with 'Seance', we're all over the place, we got something that sounds like rock, like The Kinks, something that sounds like Led Zeppelin and something that sounds like Harry Nilsson, it's kinda all over the place like a good soundtrack would!…
On introspection mixed into the loose concept lyrics: anybody who's been in the music business for more than six months has these times where they kinda wonder, you know, at our age, we see a lot of bands doing their last hurrah tours…
On 'Demo Damage': it sounds right because you're used to it, not because it IS right…
On Paul Gray's bass style: there are so many Paul Gray fans – bass players, obviously… – because he really brings the instrument out of its shell, it's like playing a tuba as a melody instrument!
On choosing the band name and it echoing two characters presented in the 'Seance' album: our original idea was a play on the Dr Jekkyl and Mr Hyde thing, that didn't end up sticking, I think we're (Sean and Alfie) both really deeply intrigued by the concept, extracted even more…
On Alice Cooper: he probably did what we're trying to do the most, maybe the style of music is a bit different, but not always. If we had large budgets, we would definitely be doing that (referring to Alice Cooper's 'Welcome to my Nightmare' and its video special).
Hopefully we've whet your appetite with just a small example of what to expect from this positively epic conversation… all that remains to say is "open a bottle of rum, sit back and enjoy…"
'Séance' is released via Fullertone Records on 13 November. You can get your copy HERE.
www.facebook.com/professorandthemadman
All written content © Über Rock. Not to be reproduced in part or in whole without the express written permission of Über Rock.