By Jonny Bakes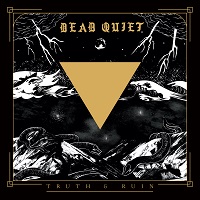 Okay, hear me out. You know you get those dogs that look like a complete mix of about ten different breeds? Well, my Grandma always called them "Heinz Varieties". You may be wondering why that's relevant, but you will shortly see why that came to mind when I took the third album for Vancouver's Dead Quiet for a spin…
Over their six-year career to date, Dead Quiet have spent a significant amount of time on the road supporting the likes of Cancer Bats and John Garcia (Kyuss), as well as performing at Desertfest. The latter gives a pretty good indicator of the kind of music you're in for when you pick up Dead Quiet. I'll tell you one thing that's for sure though, these guys are neither dead, nor quiet! Instead it's a pretty eclectic blend of stoner rock, classic heavy metal and prog rock with influences from across the metal spectrum.
There are clear influences from the likes of Judas Priest and Black Sabbath, yet also a very strong Deep Purple influence too. This is probably down to the liberal usage of the organ that doesn't let up for the entirety of the album. Yet despite the clarity of these influences, Dead Quiet manage to take these elements and mix them all up in their own way to create something that is very unique to them, and I think that it's this that makes them stand out from being just another "we love classic bands" band.
'Truth and Ruin' launches pretty well out of the gate with the energetic 'Atoned Deaf' which carries an absolute rumble of a bassline to go with the Deep Purple-esque organ melodies (or possibly even a hint of Ghost here?). It's hard not to pay attention to the vocals of Kevin Keegan though (no, not the author of 'Football, it's a funny old game') as his charisma manages to come across on record as well as it does in the band's live performances. There's some good variety in tempo on this track, but predominantly it's got a steady slow chug that shows that Dead Quiet really are ideal Desertfest material.
From there the album remains pretty consistent, with ebbs and flows in mood, but there is one track that stood out among the rest and that's 'Of Sound and Fury'. This is one of the faster tracks on the album that invokes a bit of energy in the room when it plays. Like the other tracks on the album, it still pulls from those different corners of the metal world, and that organ still dominates the sound which gives a retro edge to what is a predominantly heavy metal sound here.
Overall, 'Truth and Ruin' is definitely an album that will lend itself well to live performances, although this is almost to the point where it feels a little like that live element is needed to get the full experience. Because while I enjoyed this album, it didn't light my world on fire or grab my attention as much as some other albums have recently. That being said, it is still a solid all-round album and there's every chance that it will grab you in just the right way, particularly if you're fond of the classic greats (but let's face it, who isn't really?)
'Truth and Ruin' is out now. You can get your copy HERE.
www.facebook.com/deadquietband
All content © Über Rock. Not to be reproduced in part or in whole without the express written permission of Über Rock.