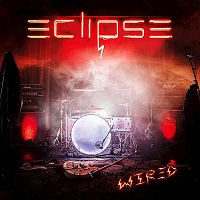 A lot of images come to mind when people think of Sweden. Some may dream of a trip to the famous ICEHOTEL to see the beauty and magnificence of the Northern Lights. Others may admire the simplicity and function of Swedish designers as they adorn their home with every possible item from the IKEA catalogue.  But for me, Sweden is all about the music. No, I'm not talking about Sweden's biggest pop band ever, ABBA.  Although, I will admit to being a fan and I can still throw down to some 'Dancing Queen' when the mood hits. But that is a story for another time.  For now, I want to talk about the thriving Swedish hard rock and metal scene, specifically a band named Eclipse.
Eclipse got its start in Stockholm back in 1999 when bassist, guitarist, and vocalist Erik Martensson got together with guitarist Magnus Henriksson and drummer and keyboardist Anders Berlin. Their 2001 debut album 'The Truth and a Little More' would do well enough to gain the attention of Frontiers Music who signed the band in 2004. Fast forward a few albums and lineup changes later and Eclipse is set to release a brand new record 'Wired' this Friday. The current iteration of the band features Erik on vocals and Magnus on guitars with Philip Crusner on drums and Victor Crusner handling bass duties.
'Wired' will be the band's first new record since 2017's 'Momentum' and I for one couldn't wait to hear what they had up their sleeve.  One of the things I really love about Eclipse is the way they blend different elements into their songs. You can hear driving hard rock riffs, soaring vocals, unforgettable melodic hooks, and blistering metal guitars all wrapped up into one cohesive tune. The opening track 'Roses On Your Grave' is a terrific melodic anthem that grabs your attention from the start as does 'Dying Breed' which is next.  Preceding the album release was the single 'Saturday Night (Hallelujah)' which is a heavier song that will find a place in every rocker's heart as we "live or die like it's Saturday night!"
At this point of the record, it's clear that Martensson is a masterful songwriter and really knows how to lay down a track. Technically, Eclipse is second to none and guitarist Magnus Henriksson provides some epic solos throughout. 'Run For Cover' is an prime example of his skills with some blistering leads before a nice transition tones it down with some accompanying bass drum from Crusner before he lets loose and lights the fretboard up again. 'Carved In Stone' is an exquisite ballad provoking powerful emotions while 'Poison Inside My Heart' has a real 80s feel to it as it builds and builds in intensity, finally releasing with a gigantic chorus.
The album closes just as strongly as it began with the driving riff of the fists in the air rocker 'Bite The Bullet' with crushing drums and thumping bass lines and my favorite song of the new record 'Things We Love,' which has an undeniable hook and  just makes you want to crank it up and enjoy. Not only is Martensson a great songwriter but he is also one hell of a singer, and his full range is front and center on 'Dead Inside.'
Eclipse is definitely the complete package and 'Wired' should prove to be the ultimate showcase for what they have to offer.
'Wired is released on Friday (8 October). You can get your copy HERE.
www.facebook.com/EclipseSweden/
All content © Über Rock.  Not to be reproduced in part or in whole without the express written permission of Über Rock.