By Jim Rowland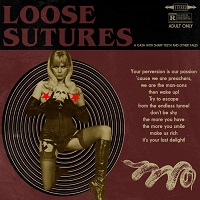 Italian four-piece Loose Sutures don't hang about. They only formed in June 2019, released their debut album in March 2020, had a line-up change in summer 2020, toughened up their sound, and in February and March of this year recorded this, their sophomore LP 'A Gash With Sharp Teeth And Other Tales' – all that in under two years.
Loose Sutures hail from the beautiful Italian island of Sardinia, but it's fair to say their music doesn't quite reflect the beauty of their surroundings. The Loose Sutures sound is a potent mix of stoner rock, psyche and fuzzed out garage rock with hints of doom, space rock and punk thrown in for good measure.
Kicking off with the dark stoner doom instrumental 'White Vulture', the album twists and turns through various flavours, from the twisted punk of 'Stupid Boy' to the full-on spacey stoner rock of 'Superfast', which has a bit of a Monster Magnet vibe going on. One influence that sticks out more than any other is that of perennial proto-punk gods The Stooges, whose influence shines through on tracks like 'Last Cry', 'Black Lips' and the fuzzed up 'Death Valley I', albeit with a more stoner rock twist.
'Last Cry' sounds loosely like what you would get if you mixed up the Stooges and Hawkwind in some sort of cosmic musical blender, 'Sunny Cola' takes the foot off the gas a little for a more relaxed approach with a bit of a Doors vibe creeping into its mix of doomy fuzz rock, whilst 'Animal House' injects the doomy swing of Black Sabbath.
The album is rounded off by another stylistic turn in the direction of the prog-tinged space rock epic 'Death Valley II', an atmospheric and uplifting six and a half minute piece that is very impressive indeed, and perhaps a glimpse of things to come from this band's journey which has really only just begun.
'A Gash With Sharp Teeth And Other Tales' is released on 15 October. You can get your copy HERE.
All content © Über Rock. Not to be reproduced in part or in whole without the express written permission of Über Rock.