By Jonny Bakes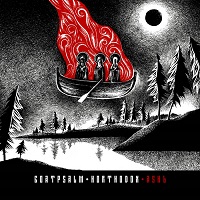 Okay, hold up. Can someone just slow down this ridiculous world for a second because there's absolutely no way that it can be October already, right? Well, if it's going to insist on being October, then at least it's time to embrace spooky season and I can think of no better way than to search out something terse and atmospheric. It's pretty convenient then that such an album fell into my lap with a release date for the very start of Octember. It's a dark and mysterious album called 'Ash' that claims to be for fans of Grift (who I once claimed to be what Ghost Bath were trying to be but didn't quite get it) so it's the perfect companion for this absolutely dismal evening. There's nothing to do but dim the lights and see what's in store…
'Ash' represents the unholy union of two of Russia's explorers of the dark and dismal – Goatpsalm and Horthodox. The former finds itself steeped in history and delving into things that have been long forgotten, whereas the latter have taken a more focused look at the darkness surrounding orthodox Christian rituals. But when these two forces combine, you're left with a piece of dark atmospheric folk that will cause the hairs on the back of your neck to stand to attention. With both artists looking to the past to inspire their music, naturally they have a tendency to summon some ghosts, and with the two working together they manage to call upon spirits from across the ages to join them in this piece that feels almost like a memorial as much as it does an arcane ritual.
The whole album is instrumental, with some tracks being barely passable as music. Some of these are simply a collection of noises that have a way of unsettling and unnerving you, while others have instrumental passages that are broken and fragmented. The album is clearly intended to be listened to in one piece as it slowly drifts through different sensations from the first moments of interrupted silence, through to more ominous droning. It feels like something that could be used to set the tone in a survival horror game, or perhaps better played through loudspeakers in a haunted house for an immersively uncomfortable experience. You'll find no tracks here that you'll be yearning to listen to in isolation, no singles or "absolute bangers". Instead, what we have here is an album that is for listening to in full when you're in a very particular mood, the same mood that might find yourself wanting to watch a classic horror movie perhaps.
It's certainly an experience that is worth checking out, but for those of a more nervous disposition you may want to listen to it with the lights on! But with that in mind, once you've had that experience once, I'm not sure that there will be many people who will be rushing to listen to this over and over again, but I've been wrong before! This may appeal to fans of Wardruna though as, at times, it does feel a bit like the darker, more sinister, cousin of their music. One thing it would be good for is a low key Halloween party though, so what better time to check it out to see if it's suitably spooky for you?