By Monk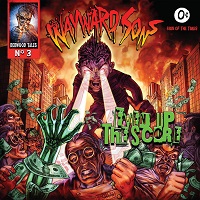 One thing about the past 18 months or so of Covidications, and particularly in relation to the music business, is that they seem to have made artists and bands hungrier than at possibly any time in recent history, as they express a determination to overcome the adversities that have been placed in their, and our, way over the course of the pandemic era. And it hasn't always been a case of raging against the pandemic and the often in(s)ane responses to it, but more often a declaration of intent to come out of the other side louder and more determined than ever…
Such a case in point is this, the assertive and declarative third album from the Toby Jepson-led Wayward Sons. Now, fans cannot have failed to notice that Jepson has been extremely active during the lockdown era, hosting online busking sessions from his (admittedly rather nice looking) kitchen, podcasts and all sorts of other shenanigans… which makes you wonder how the feck he found time to fit a new Sons album into his hectic schedule: but, then, he is a workaholic who seems to have nothing but adrenaline and a love of rock 'n'f'n' roll coursing through his veins, so here we are with the latest fruits of his labours.
And, if I'm going to be brutally honest, 'EUTS' is the most Little Angels-sounding album Toby has produced since the demise of his first band, from the 'DC-infused grunt of the opening title track through the rambunctious rowdiness of 'Sign Of The Times', the middle-finger flip of the infectious 'Bloody Typical' and the angst-fuelled paradigms of 'Faith In Fools' and 'Land Of The Blind'.
That's not to say that this is an album in which Jepson is constantly looking over his shoulder to his former band; far from it, as he and his bandmates continue to push the musical envelope and fuse disparate elements: 'Big Day' has an aggressive power pop vibe that wouldn't have sounded out of place on either of the Wildhearts' most recent albums, while 'Fake' has an underlying pop punk feel, with the main hook weirdly reminding of Weezer, before they change tack again with 'Downfall', which possesses an underlying staccato, Lizzy-style riff combined with a punk-rock fury.
Not only is 'Even Up The Score' a great rock 'n' roll album, crammed to overflowing with huge hooks and memorable melodies, combined with earworm harmonics and choruses, but it also possesses an anger, a hunger and a passion which summarizes everything that has happened during the Covid era, as well as the desire to rise above the odds and carry on with what we do best… and, in the case of these particular Wayward Sons, that is creating collections of damn fine songs that are essential purchases, and listening, for every self-respecting music fan.
'Even Up The Score' is released today (Friday 8 October). You can get your copy HERE.
Wayward Sons tour in November: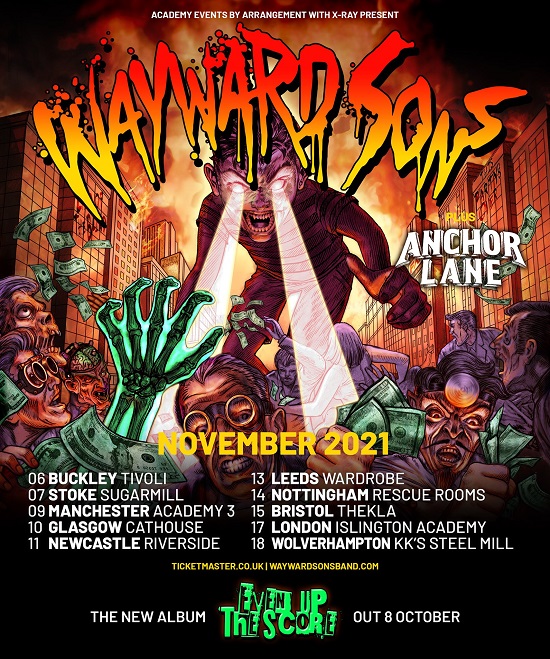 www.facebook.com/waywardsonsbanduk
All content © Über Rock. Not to be reproduced in part or in whole without the express written permission of Über Rock.