By Jonny Bakes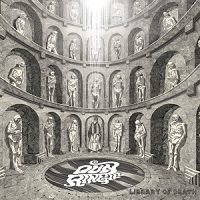 Anyone that knows me will know that I just can't get enough of folk metal. If it's the kind of music that makes me want to dance bollock naked in the middle of a forest and drink shed loads of beer, then you can guarantee that it will definitely be my scene. But, of course, folk metal isn't all beer and dancing, in fact this is just the tip of the folk metal iceberg. If you dig a bit deeper into the genre you'll find a wealth of music that takes strong influence from traditional folk music and tales from the native country to give what could be called a cultural experience – if that's your kind of thing, that is.
Swedish metallers Dun Ringill, however, have gone well off the beaten track with their dark and doomy heaviness that gets a light dusting of folk to give the musical equivalent of folk tales you tell the kids to keep them away from the woods. Their debut album had received a pretty favourable review from our very own DJ Astrocreep when it was released last year, so with just a year between releases I was pretty keen to see what Dun Ringill's sophomore effort would bring to the table, so I sat myself to down to check out some stories from 'The Library of Death'.
The album gets going with an extremely sombre folk metal musical interlude that sounds like what you would get if you made Korpiklaani play a song while hungover. This rolls right into a dark and sinister durge about the 'Raven's Tear' that will be shed at your funeral, and this is about as cheerful as this dark piece of Scandinavian metal gets.
The folk elements come and go as the album winds its way down a pretty dark road. There's some long, heavy, songs that chug their way through some aggressive tendencies in a very Down-like fashion, but these are interrupted with short violin pieces and haunting spoken word sections. Particularly the eight-minute monster of a track, 'My Funeral Song', which has a pretty clear and obvious theme to it! This one really sucked me in to the point where I nearly forgot that I was sitting outside on a bright sunny day, instead it started to feel like I was in some remote forest at the dead of night.
'Well of Desire' is another track that really grabbed my attention. This one starts out with some shamanic drumming with a ritualistic feel to it but it's not long before this gives way to another hard hitting, although slightly faster, aggressive number. But this change of pace is nothing compared to the next track which completely burst out of fucking nowhere with massive Motorhead-meets-early Maiden vibe. Hell 'NBK' almost seems completely out of place on this album with a huge shift in style. But you know what, it's quite possibly my favourite track on this album, maybe because it is so out of place, or maybe because it's more suited to my attention span, who knows? But if you do decide you're only going to give one track a go from this album, make it 'NBK'.
So overall, this album is certainly right up my street but there is a chance that this clash of cultures may not be to everyone's taste. I would say that it's more likely to appeal to the doom metal crowd than the out and out folk metallers. If you want your music to be merry and about dwarves singing shanty songs then this album just isn't for you. But if you want something with a bit more aggression that draws in some traditional Scandinavian influences, then absolutely have at this one and give it a blast!
'Library of Death' is out now. You can get your copy HERE.
www.facebook.com/DunRingillSwe
All content © Über Rock. Not to be reproduced in part or in whole without the express written permission of Über Rock.