By DJ Monk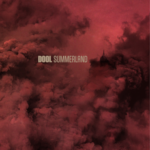 Taking their name from the Dutch word for "wandering", Rotterdam's Dool certainly live up to their name with this, their second full-length album. Right from the offset, 'Summerland' immediately displays a variety of influences and explores myriad musical miens, mixing prog, psychedelia and post rock with the sort of gay abandon that many other acts would not dare to attempt.
Opener, and lead single, 'Sulphur & Starlight' more or less summarizes the band's approach, in its dual approach to their particular style, mixing acid-fuelled psychedelic wispiness with a light rock vibe that gives it a catchiness but doesn't quite ignite, as the lightness of touch just doesn't give off enough heat to spark that rock 'n' roll flame.
With frontman Ryanne van Dorst bearing an uncanny vocal resemblance to Geddy Lee, or Frances Dunnery if you want a more Euro-centric comparison, 'Summerland' is one of those drifty, shoegazey albums that is just too twee to make a real impact. Apart from the occasional moment where a guitar part or an insightful lyric jumps out of the speakers – and they are very occasional, believe me – it sort of passes by with a sense of listless waywardness, like a spide searching for a half of Buckie after all the offies have closed. There is no clear sense of intent or purpose, instead living up to the band's name with the same meandering lack of eloquence as Donald Trump. They don't really up the ante until the intense and epic gothic noir finale of 'Dust & Shadow', but by then it's, quite probably for most passing listeners, a case of too little too late…
Every time I download and listen to an album, I really want to enjoy it. I really want to share the joy that discovering new music can bring. Dool certainly are excellent musicians, and the performances on 'Summerland' are totally flawless. However, the end result, unfortunately, is more sterile than an NHS intensive care ward.
'Summerland' is released tomorrow (Friday 10 April). You can get your copy HERE.
www.facebook.com/allthosewhowanderaredool
All content © Über Rock. Not to be reproduced in part or in whole without the express written permission of Über Rock.