By Gerald Stansbury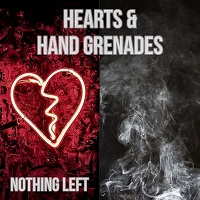 Formed just over a year ago, Hearts & Hand Grenades dropped this sophomore EP at the very end of 2019, before we all knew what social distancing was. I had sampled the video for the lead track a month or two ago and immediately wanted to hear more by the band. One of the first things that stood out to me about Hearts & Hand Grenades is the no frills approach they take. Their focus is on crafting timeless hard rock songs that will maintain their freshness for years to come. With all of the different genres and subgenres that get thrown around today, there are not many bands that deliver the same powerful hard rock that these New Yorkers do.
'Nothing Left' (the song) introduced me to Hands & Heart Grenades and might still be my favorite of the four on the EP. The guitar work of Kenny Blesy and Mike Bress immediately introduce themselves here with a riff that gets stitched into your head. Stephanie Wlosinski (vocals and bass) and Tom Lafferty (drums) then lay down a razor tight rhythm. Wlosinski shines on vocals as well with a voice made for rock with a mix of grit and velvet. This is a brilliant hard rock song and leads into the mellow swinging verse of 'The In Crowd.' The band then turns the throttle to full speed for the chorus before returning to the next verse. This was probably the one song that didn't connect with me right away but now I cannot imagine this EP without it.
They introduce 'My Sickness' with another catchy guitar riff and a rhythm that will either have your head banging or fist in the air. The chorus here doesn't hit you over the head; it just slowly works its way into your bones. Wlosinski and Lafferty provide some solid breakdowns in the song to give it some extra spice. Closer 'I Hide' provides some excellent vocal work by Wlosinski at the beginning with her bass and the band rising up in the mix. This is another one where there is a groove that comes up after the verses that can level a brick wall. The verses kind of remind me of old New York rockers dogma.
Four songs that are over in about 16 minutes and will make you want to play the whole thing over and over again. With a third EP on the horizon, I recommend grabbing this hard rocker as your prep work for the new one that will be with us soon. The music world needs more Hearts and Hand Grenades.
'Nothing Left' is out now.
www.facebook.com/heartsandhandgrenades
All content © Über Rock. Not to be reproduced in part or in whole without the express written permission of Über Rock.