By Monk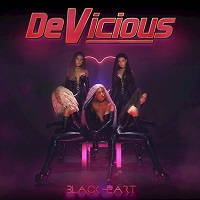 There certainly is nothing black about the collective or individual hearts of the five guys who make up German sleaze revivalists DeVicious: in fact, they are bleeding, and pumping, bright red corpuscles as the quintet deliver their heaviest and most visceral album to date.
Like so many albums now seeing the light of day, 'Black Heart' was written and recorded against the backdrop of the multiple Covid-enforced lockdowns which all of us in the Überverse have faced over the past two years: and, like so many of their fellow artists, DeVicious, having found a momentum built by three albums in as many years, have come out the other side angry, hungry… and rockin'. At the same time, they have also taken their unbridled levels of creativity in a different direction, simultaneously producing a series of comic books, telling the story of a bunch of latex-clad vixens who inhabit a fictional 'Dollhouse'… yes, it's all very cyber-sexy and, naturally, DV provide the soundtrack to the tales which unfold…
Unfortunately, however, the band didn't provide us with any examples of the comics, just a few snapshots of artwork (mostly courtesy of the album and singles covers), so we cannot judge their artistic merit, or otherwise: which is probably just as well, as it might just distract us from the matter in hand, and that is this, their just-released fourth album…
Having previously struggled to find a musical niche, drifting from the pure AOR of their debut through the melodic record of opus #2 to the unadulterated Teutonic hard rock of the appropriately titled 'Phase Three', DeVicious now seem to have found their niche – and that is somewhere between the three miens, combining the best elements of each sound into a carefully crafted, homogenous whole that is as impressive as anything you are going hear in the sub-genre that has become tagged as NWoCR.
While they may have a bit more time to craft and create this album, they certainly have lost none of their energy or enthusiasm, sacrificing neither at the altar of needless perfectionism, as they instead concentrate on deliver quality hard rock that very much stands with its diamante-encrusted cowboy boots very firmly in the camp of the glam/hair metal revivalism recently forsaken by the likes of Reckless Love. Yes, instead of disappearing off at a tangent, DV have concentrated on honing their sound even further and delivering what they do better than an over-zealous Amazon courier…
…And that is an all-killer-no-filler collection of ten tracks heavy on the harmonies, massive on the melodies, catchy on the choruses and high on the adrenaline of rawk 'n'f'n' roll. Do yourself a favour and check yourself into the Dollhouse, 'cos because there definitely some aural treats lying behind its invitingly open door…
'Black Heart' is out now. You can get your copy HERE.
www.facebook.com/deviciousband
All content © Über Rock. Not to be reproduced in part or in whole without the express written permission of Über Rock.