By Monk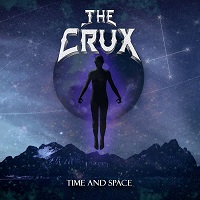 In the interests of fairness, I better declare an interest, of sorts, right at the start of this review. A decade ago, when DQ and I were in the early stages of our relationship, we managed a young thrash band by the name of WarCrux. They had plenty of potential, playing a number of high profile shows and releasing a rather excellent little EP (which I still listen to on a regular basis). But, unlike DQ and myself, it did not prove to be a happy marriage and the band seemed to disappear into the ether… so, imagine my surprise when I heard that the band's co-founders had got back together and were once again making music together, albeit under a slightly altered monicker and with a different twist to their sound…
Which brings us to this moment in time, and the second release from the renascent 'Crux: and yes, the band are definitely in a totally different 'Time And Space' musically, as well as visually, what with their once youthful cheeks now covered by some rather impressive beards. I have to admit, given my previous association with the band, I approached listening to this four-track offering with some degree of trepidation: I mean, what if I didn't like it? Would the band be upset that I maybe was holding some form of inane grudge against them? Well, my solution was that, if I didn't like it I would stay silent and say nothing… but, here I am writing about it…
…And that's because this is a fucking excellent release. Pure and simple. It's mature, it's aggressive, it's hungry, it's lean and it kills with the accuracy of a Ukrainian sniper. The band's Metallica-esque thrash roots are still very much evident, especially in the main guitar riffs and their interplay, they do seem to have regurgitated some of their older miens (but wtf does that matter?), and James' voice still possesses that Mustaine-style twang.
But it is obvious from the opening section of lead single 'Being' that there is much more going on: there's Pantera-style groove mixed with grungy STP vibes and Mastodon-evoking heavy blues grunting, as huge soaring riffs cascade into moments of utter bleakness before re-emerging into the dizzy glare of searing solos and 'banging breakdowns that are guaranteed to open up any pit when the bais get around to playing live again (unfortunately, tonight's planned album launch has been cancelled).
If I'm honest, I genuinely didn't know what to expect from this EP. I knew that, technically, it would be spot on. What I did not expect was for it to absolutely rip my head off. What is even more impressive is the fact that the four tracks were recorded "off the floor" over the course of just two days, with no overdubs or studio trickery employed. So, well done lads… I'm proud of yez \m/
'Time And Space' is released today (Friday 22 April). You can get your copy HERE.
www.facebook.com/TheCruxBelfast
All content © Über Rock. Not to be reproduced in part or in whole without the express written permission of Über Rock.