By Jase Walker
As a self-professed Download festival veteran who earned his stripes dealing with the *drownload* years (most notably 2012 and it's abysmal weather), I'm always keen to see what changes are made with each passing year. Given that 2022 is the first full-scale festival since 2019, it looks like they've been making some pretty interesting changes following on from the Download Festival Pilot which ran last year, which was a massively downscaled version of the festival as a trial run following the disastrous year of 2020.
So, let's have a look at what's changed from 2019 to 2022…
Firstly, the main thing that sticks out is how different the map looks, essentially they've shunted a massive majority of the camping from one side to the other, previously the major camps such as Blue, Green, Brown, White and such were almost directly behind the infamous main entrance aisle coming from the East Carpark which I'd say is the most familiar entrance for a vast amount of attendees.
For reference, this is 2019's map: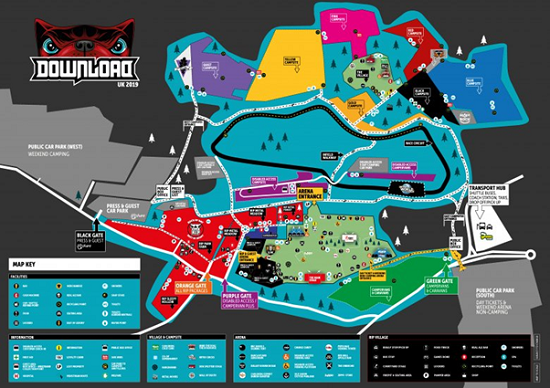 And this is 2022's: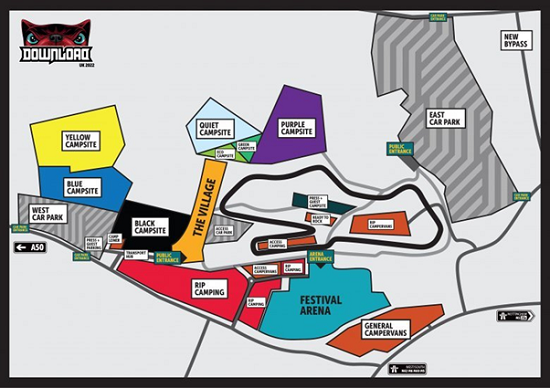 So, the new Purple campsite appears to have taken over what was previously Yellow camp, and Quiet camp has stayed more or less the same. Yellow and Blue have moved way over to where the West Car Park is, it's unclear if this will save much walking time compared to previous years as most people will remember the massive slog it can be walking from the camps to the arena (In some cases taking almost an hour) but we'll see!
Other than that, not much changes on the camping front other than the access camping being moved to the solid track area, which has been a badly needed change.
Not only this but as you can probably see, one of the biggest changes that Download has made to date is finally moving The Village to a hard surface floor. This has been overdue for an extremely long time as, other than the arena, it sees the most footfall out of any other area at the festival and even a small amount of rain turns the whole thing into a massive bog. But not only that, it's legitimately smack bang in the middle of the whole site, which is great as in previous years I've had to camp a bit further out of the way and it made the trip back and forth just seem like extreme effort – awesome change.
Download Festival has also made some pretty big steps in it's sustainability campaign and made it easier to get stuff recycled, which if you've been before, you'll know there's never a shortage of cups and cans littered all over the site. But not just that, better water refill sites! Anyone who's been on a particularly hot year will know that you'll need to keep yourself hydrated and the water points have previously been a bit lacklustre.
And finally, we've got more use for the Dogtooth Stage! Every night of the week we've now got a solid variety of featured night clubs from around the ÜK, each bringing with them their own brand of music spinning. There's definitely something for everyone here, ranging from the cock rock and ballads of Ultimate Power to the pop-punk party of What's My Age Again?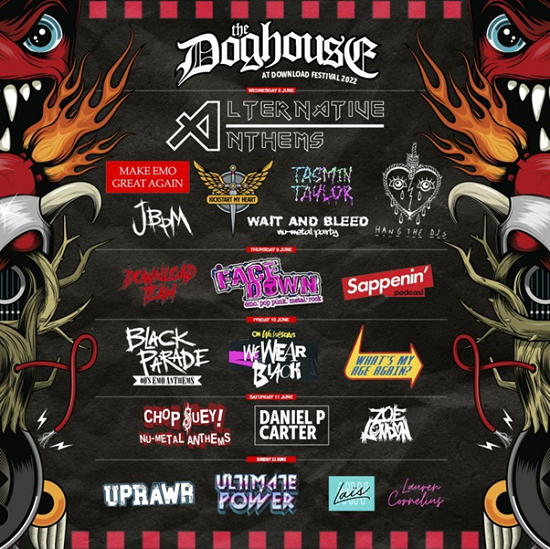 So far Download Festival 2022 looks to be shaping up nicely with some badly needed changes and some forward thinking. If you happen to see me there, give me a wave, I'll be the hench dude wearing galaxy print leggings carrying a bag of wine, can't miss me.
Download takes place at Castle Donington, Derbyshire, over the weekend of 10-12 June. You can get your tickets HERE.
www.facebook.com/downloadfest/
All content © Über Rock. Not to be reproduced in part or in whole without the express written permission of Über Rock.