Introduced by Monk
Irish death metal quartet The Risen Dread got this current year off to the best possible slot, what with the release of their stunning debut album, 'Night Hag', which they promptly followed up with a coveted opening slot on the mighty 'United Titans' tour with genre legends Vader and Marduk. OK, they may have suffered something of a disappointment with the postponement of their planned hometown return, when the Clang festival was put on ice until October, but they've certainly hit the ground running… What better time to catch up with TRD co-founder and guitarist Will Ribeiro to find out a bit more about this rising (sic) Dublin crüe?
So, given the name of this feature, where better to start than at the very beginning by asking Will to introduce us to the rest of the band and tell us how they came together?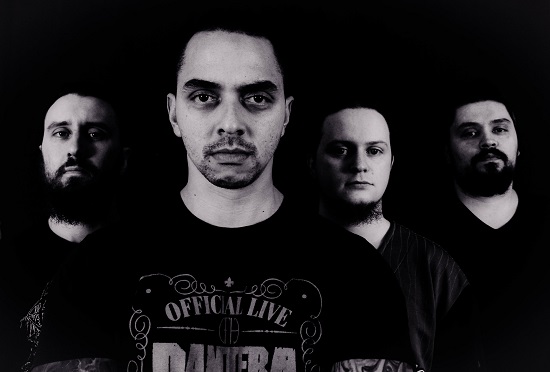 The other guys are Marco Feltrin (vocal), Colum Cleary (drums) and Mat Maher (bass).
The whole thing started with me and Colum around summer 2018. It took us a few good months to find a vocalist. Colum found Marco towards to the end of 2018 and Mat joined us around January 2019. After that we had a brainstorm to decide the name. We had a second guitarist (Robbie) for a few months. He recorded the EP 'Delusions' with us in May 2019. We always wanted a second guitarist. It never worked though.
Personally, as a historian, I have an interest in etymology, so I feel have to ask about where the band name came from and if it has any special significance…
The Risen Dread is simple as it means. It represents a fear we all have within ourselves. It can't be a fear of anything, and it rises sometimes. That's what The Risen Dread means.
Does the name reflect what you are seeking to do/achieve as a band?
The name reflects what we wanted to talk about in our lyrics. That doesn't mean we'll always talk about some kind of mental illness though.
Music is categorized into various genres and sub-genres. How would you define your sound? What individual and collective influences do you draw on for your sound?
I honestly don't know how to answer about our sound. I always thought it was more Melodic Death Metal since there's a lot of harmonies and melodies in our tracks. However, the review we got from our album had always people comparing us to Metalcore (I think it's due to Marco's vocals and the production).
We've got fast tracks, slow tracks and something groovy as well. I let people decide about that.
We've got influences from heavy metal to black metal. Our drummer is a big fan of Chris Adler. I don't have any particular guitarist I'm inspired by. I've got bands like Lamb of God, In Flames, Parkway Drive and so on.
You have just released your debut album, 'Night Hag'… can you tell us a bit about it?
It's a conceptual album, in that we talk about mental illness in all tracks. We've got tracks about depression, PTSD, cotard delusion, sleep paralysis and so on. Or we talk about some historical figure like Jim Jones in our track 'White Night', or about mass shooting.
We've got Andreas Kisser from Sepultura as a guest in one of the tracks ('White Night') as well as Renato Zanuto a Brazilian conductor who added sound effects and orchestra arrangements to our track 'The Night Hag'.
Are there any particular lyrical themes/personal issues you are addressing in the song(s)?
Yes. The entire album is about mental illness. And we've got people in the band with depression, anxiety and sleep paralysis. Then, tracks like 'Silent Disease' and 'The Night Hag' are personal for us.
How important is social media in getting your music out there?
Metal fans want to see you playing live. Feel the energy of the band on the stage. They need to see that you're for real. Social media? It's important, but only till page two.
Is it more important than, say, streaming outlets especially given the fact that the financial returns for streaming can mean a band doing a lot of work for relatively little reward – i.e. you earn very small percentage returns, with the services themselves taking large chunks of your potential income. Is it worth the effort, or is it a fact of the business that you just have to accept?
It's the business and there's nothing we can do about. But metal fans always liked having physical copies of an album. We've just came back from a tour in Europe and in the UK. There were a lot of people looking for CDs for instance.
MP3s were a problem before because we couldn't track it or make any money of it. At least with the streaming we make $0,0001 ha ha ha ha ha!
The fact is, we can't stop technology!!!
The pandemic of the past two years led to a lot of bands having to explore other methods of generating income marketing themselves. I'm thinking of how many bands found themselves having to go down the live streaming route. And a lot of them charged their fans for watching the shows. I know there are pros and cons to "free" versus "pay per view", but as a young band I'd be interested to know if, given the shitfuck of the past two years, it is more important for you to get your music out there than to make money out of doing so? I guess the point I'm making is "is it worth some short-term pain for long term gain"?
You must have a strategy. You need to know why you're doing something and what you can take from it. There's no short way… and think of it as an investment! Unless you're doing it for fun.
I think most of new bands don't have any strategy in mind. They just want to play, which is fine for them. But The Risen Dread is business and we're always thinking ahead. We've got thing to announce this year and we're already thinking of what we're going to do in 2023. That's how we work.
Life does seem to be getting back to some form of normality, but do you think the option of things such as lives streams will continue to be used by bands, especially to reach into territories where they may not be able to play, or afford to go to?
I hope not. Live streams suck!!! I watched one live stream in the past two years and I found it very boring watching a band playing without a crowd. Also, you lose that connection you only have when you play live.
I get why bands had to do it. It's a business and they needed money. But with things getting back normal, I hope this gets vanished!!!
So, what is next for the band? What is the plan for, say, the rest of 2022 in terms of getting out there and bringing your music to new and expanding audiences?
We've got a few announcements to make. One UK tour and another EU tour. We're already working for something for 2023 as well. But this time to explore a different part of the planet hahahah
OK, now a bit of fun, and a couple of quickfire "out there" questions to give us a wee bit of an insight into your personalities:
Ice cream: vanilla or strawberry? Strawberry
Gravy or curry sauce on your chips? None, I don't like sauce on my chips
Salted or sweet popcorn? Salted
Buckfast or Iron Brui I don't know, never tried neither of them
Smarties or M&Ms? M&Ms 100%
Pineapple on pizza? It's not a pizza. I think we call it another name for that mix ha ha ha ha!
Final question: when live gigs are fully up and running again, and you have your choice of any bill to be a part of, who would be the three other bands (signed or otherwise) you would choose to play with?
Sepultura, Parkway Drive and In Flames
'Night Hag' is out now. You can get your copy HERE.
www.facebook.com/TheRisenDread
All content © Über Rock. Not to be reproduced in part or in whole without the express written permission of Über Rock.