By Monk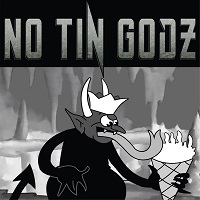 There seems to be something about Texas bands that makes them manage to sound heavier than a 40-foot truck filled with reinforced concrete pummelling down the interstate yet possess enough groove to fill even the most reluctant of dancefloors to overflowing with enthusiastic 'bangers and moshers. Power trio NTG are just the latest exemplar of acts with that uncanny knack…
Opening track 'I Walk Alone' heaves into sight with the sort of pure unadulterated power few have managed to replicate since Pantera battered and beat their way out of the Lone Star with a song of similar verbiage. It's dense underpinning groove is accentuated by a stabbing main riff, itself overtopped by a suitably acidic vocal which drawls and cajoles in equal measure. It is a defiant and declarative opening statement of intent.
Perhaps not surprisingly, 'We Are Zombies' has a certain Rob Z feel to its vibe, especially in the choruses and bridge section, but there is also a strange feeling of some ZZ Top appreciation going on, not least in the first half which is built on a Gibbons-style staccato riff structure before the song gets seriously heavy in its denouement.
'Just Before Dawn' is another heavy nod to the industrial-tinged horror-noir of Mr Zombie, with its heavy groove and almost spoken vocal… And then it comes: COW BELL! Yes, folks, I've died and gone to heaven. It's all too brief, but there it is, right at the beginning of 'Different Day', setting the scene for the song's dense BLS-style melodicism which makes you want to punch the air (and your neighbour – or his wife) as much as it does grind those cowboy boots into the dust in your best dad-dancing poseur mode.
'Hell Yeah' rounds out this all-too-brief introduction in suitably anthemic, rabble-rousing style, making your head nod, your feet tap and your fingers twitch simultaneously as you involuntarily find yourself 'banging, tapping and twitching along to a groove more infectious than a dose of the beerbug in your local hypermarket.
A highly impressive debut. I definitely look forward to hearing more – much more, thank you very much, guys.
'No Tin Godz' is out now.
All content © Über Rock. Not to be reproduced in part or in whole without the express written permission of Über Rock.