By Monk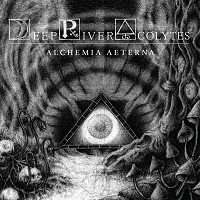 I first came across Finnish heavy blues/doom proponents Deep River Acolytes around the middle of 2018, when their second album, 'The Hour Of Trial', exploded its way out of the towering speaker stacks in the ÜRHQ studio and into my aural cortexes. I have one abiding impression remaining from that introduction, and that is the fact that 'The Unknown Grandeur' was one of the singularly most impactful opening tracks I had heard to any album in a very – no, make that VERY – long time. It most definitely, and defiantly, was up there with the likes of 'Black Sabbath' or 'Planets Collide' in those terms. When this, the band's third album, landed in my inbox a week or so back, I immediately grabbed its predecessor off the shelf to ascertain if it still had the same impact – and, by all the gods of metal, it did indeed, ripping my head off, re-attaching it to my bleeding neck and repeating the whole process all over again… Going on to feature some of the heaviest basslines you'll have the pleasure of allowing to obliterate what's left of your braincells, 'The Hour Of Trial' was always going to be an extremely hard album to follow: but, here we are two years later with just that, the follow-up…
'Alchemia Aeterna' is an altogether different beast from its predecessor. Yes, it is still identifiable with the previous album, and elements of sound very firmly remain intact, but certainly the first impression is that of a much rawer, more nascent, more stripped back sound. Opener 'At The Crossroads' definitely does not hit with the same hammer blow intensity of 'The Unknown Grandeur', but does set the framework from the rest of the album, displaying an increased lightness of touch, a dexterity, a sense of fun even, a playfulness which overcomes the intensity which still lurks in the background.
Don't get me wrong, 'Alchemia Aeterna' is an album that still has its muddy boots still very firmly entrenched in the dankness of the darker end of doom, as the main riff to 'Under The Spell' and the broiling 'Caught Somewhere Out Of Time' quickly prove, the latter evoking the sort of swamp-soaked groove that will have Kirk and Wino sitting nodding appreciatively in corner, sipping another slug of 'shine and wondering why they hadn't thought of such a dank and gloomy riff.
The other notable factor is how much, by and large, the bass has been pushed to the back of the sound: yes, it is still there, but its prominence has been subsumed into the overall sound, adding atmosphere rather than aggression. Now and again, it does come to the fore, such as on the titanically evil-sounding 'Veriurut', but when it does so it continues to perfectly compliment the overall approach, dominant but not domineering, stepping down into the nether regions when it needs to do so in order to add to the overall impact.
Third albums are notoriously difficult beasts in their own right. With 'Alchemia Aeterna', DRA have taken a chance, a risk even, by fucking, if ever so slightly, with their previously successful formula. But, they have done so in a way which is effective and impressive, demonstrating a recognition of the need to evolve rather than masturbate away any opportunity of development.
'Alchemia Aeterna' is released next Friday (30 October). You can get your copy HERE.
www.facebook.com/deepriveracolytes
All content © Über Rock. Not to be reproduced in part or in whole without the express written permission of Über Rock.