By Gerald Stansbury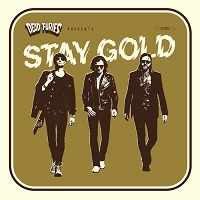 It's always great to hear a band naturally evolve and continue to expand their sound while not losing any of their previous identity. Dead Furies have successfully managed the task on their third studio album where the Action Rock components are perhaps not as pronounced as they were on the previous material, but the songs still bleed soul, heart, and tears. Dead Furies hail from Estonia and remain the only band I know from that country. 'Stay Gold' is a no brainer purchase if you have liked their previous albums or excellent dirty rock n roll.
'Stay Gold, Ponyboy' comes to life with the whole band getting revved up before kicking into gear with some excellent piano added  that actually reminds me of the Humpers or the more commercial side of the New Bomb Turks. The chorus immediately sticks in the head and makes it easy to see why it was the first single and first song on the album. It immediately pulls you into the album. 'Good God Damn' keeps the tempo slower and settles into a cool groove where Ardo snarls out the first before having to lay out a tongue twister of a chorus. This song has been a slow grower on me over the past couple months (Yes, I have been slow in writing this), but it is one I cannot imagine not hearing on the album now. They turn the temp back up a bit with the excellent 'Holy Nothing.' The rhythm section of Robert (bass) and Erik (drums) form an awesome tandem that allows Ardo to lay down some excellent riffs and a simple but extremely effective chorus.
One of my absolute favorites from the album comes next in 'Death of a Comedian' which arrives via a razor sharp hooky riff. The chorus will have you singing part of it before the end of your first listen and just gets stronger in time. Like most of the songs here, it doesn't hit the three minute mark as the band do not waste any moments in these songs. 'Play It Down' keeps the tempo going with some excellent work by Robert and Erik again with the groove taking the song some dark alleys. The power of the chorus immediately stood out to me as it seemed in some ways to me to be at odds with the verse in structure, but it works perfectly. The variety of songs here really highlights one of the strengths of this album as you never feel like you are hearing the same song again. 'A Couple of Winos' feels like it could have come from a '70s rock album while settling into an awesome rhythm that gets the body moving. Ardo's voice fits this so perfectly.
Closing out the first half of the album is the very different 'Sweet Lovin Body.' Initially I thought this had to be an obscure cover song as it just feels different from the lyrics to the back and forth rhythm. Safe to say, this is another example where they keep pushing their sound in new ways.  It provides a great lead into the saxophone laced 'The More Things Change.' I am a firm believer that every rock band should have someone that can play the sax, and this song could serve as my Exhibit A. I can also let you know that it is not possible for this hook filled monster to be played too loud… Trust me, I have tested it. I hope the band releases a video for this one.  Following it was never going to be easy, but the band is up to the task with '(I'm Not Gonna) Go Down' serving as a life affirming hard rock anthem for us when we are struggling in this thing called life. This serves as a shot of adrenaline pushing us forward when we feel our heart and soul are shattering.
'Same Same but Different' blasts to life and is seemingly gone in no time with it not quite reaching a minute in length. It's sort of like a wild animal has been let loose, but the song hits every mark and leaves you wanting to hit the repeat button to relive it over and over again. The intro to 'There is a Weight' may initially make you wonder if the song is going to slip into a ballad, but that is definitely not the case with the band providing another hard rocking anthem where the guitar riffs work like magic on the soul. This is another favorite among favorites as it also feels like it could have comes from any point of the last 50 years.
There is some cool call and response vocals on 'They Just Don't Get It' where the hard blues rocking beat again brings something completely different to the album but remains firmly the Dead Furies. The band did an amazing job producing this record with Magnus Andre providing a perfect mix. The band gets back into Action Rock mode on the ultra cool 'Cowboys and Indians' where Irene Kivi provides a brief singular female vocal that takes this to another level. The chorus is built for immediate singing, and that guitar riff is clearly inspired by the likes of the late great Chuck Berry. This one also features an excellent guitar solo by Ardo.  Closing out this album was never going to be an easy task. The band stick with one that comes in at under two minutes and feels like nothing else on the album with 'I Get a Kick From You' recalling a slow 60's ballad injected with some extra power. I don't think this one could have been at any other place on the album and the fade out at the end is perfect.
For me, this is clearly the best Dead Furies album yet, with the band continuing to evolve and releasing a diverse album that makes them one of my favorite Action Rock bands out there. Unfortunately, I got this one too late to include it in my top albums of 2019, but it would have made an appearance if I had spent more time with it. If you already like the Dead Furies I am preaching to the choir. If you have not heard them, do yourself a favour and give your soul a shot of some of the best rock n roll there is.
'Stay Gold' is out now. You can get your copy HERE.
All content © Über Rock. Not to be reproduced in part or in whole without the express written permission of Über Rock.