By Lesley Macdonald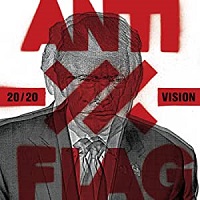 With a name like Anti-Flag it doesn't take a genius to determine that this band may get political.  Yet, the current line-up, Justin Sane (lead vocal and guitar), Chris Head (rhythm guitar/backing vocal), Chris (#2) Barker (bass) and the fantastically named Pat Thetic (drums/percussion), who have been together since 1992, have never targeted any leader or group as they have with the artwork and intro track on '20/20 Vision'. They clearly have no qualms about going against Trump and his policies in an upfront, direct way. Anti-Flag don't stop at a few provocative visuals though, no – this is much deeper than that.
The album title refers to the view of the current political climate from Anti-Flag's perspective but if that makes you think you have some idea of what you're in for, you're probably underestimating them.   The first two tracks outline the bands disgust at the current direction of social policy.  'Hate Conquers All' samples one of Trump's speeches and develops into a blistering annihilation of political policy in the USA where fear fuels hate and closed borders.  It's a warning, not only about the current climate, but of things to come.  'It Went Off Like A Bomb' follows swiftly, a narrative about the inevitable consequences of political decisions and of toxic words that, once uttered by people in power, spread like disease and cannot be taken back.
Having outlined the problem, '20/20 Vision' invites you to pick a side – the almost pop-punk chorus calls for hope.  As you make your decision the fantastic 'Christian Nationalist' reminds you of who this band are, it's a massive 'fuck you' to hypocritical religious righteousness that is used to camouflage underlying indiscretions and has, hands down, the best lyrics on the album.  In case you forgot, you are reminded that history often shows up such people as no better than those they judge.
The centre of the album reminds us all 'Don't Let the Bastards Get You Down' with a deceptively upbeat sounding rant that comes into its own as the underlying anger pushes through.  'Unbreakable' follows in a similar vein asking us to rise up like a phoenix to act. The crux of the album is about action and 'The Disease' points out that we can do this quietly and surreptitiously "we are the voices in the static, we are the disease''. Make no mistake though, apathy is painted as contributing to the problem, this is a call to arms.  Musically this one will stick with you as the energy picks back up to culminate in the thrashed out and aggressive 'A Nation Sleeps'.
The end of the album is full of disgust at the target(s) of this uprising.  'You Make Me Sick' drips derision in every line.  A hatred that can't be ignored is directed in 'Un-American' towards capitalism and the coveting of money as it laments the destruction of the American Dream.
This is more than an accomplished album.  If you are politically minded it will fuel your fire, and if not the music takes you along anyway telling a story about what might be to come and about what you can do about it.
'20/20 Vision' is released today (Friday 17 January). You can get your copy HERE.
Anti-Flag tour the Über Kingdom in February: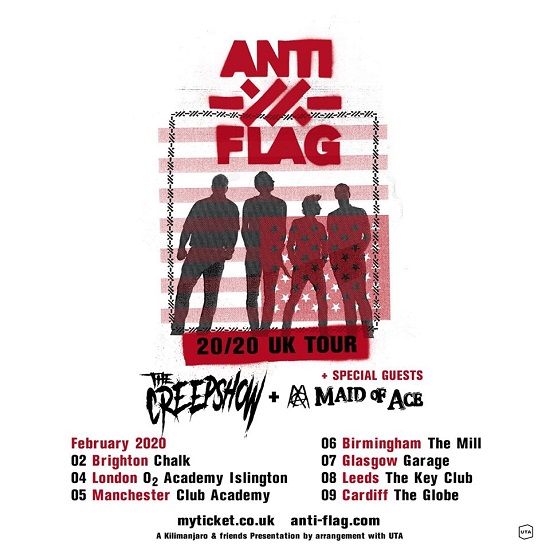 www.facebook.com/anti.flag.official
All content © Über Rock. Not to be reproduced in part or in whole without the express written permission of Über Rock.