By DJ Monk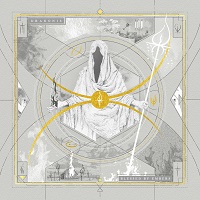 ÜR-approved Northern Ireland black metallers Drakonis will release their debut album, 'Blessed By Embers', via Hostile Media on 3 April.
The album is a story driven concept spanning eight songs, or chapters, following the rise and fall of a charismatic cult leader, who allows darkness and fire to shape and purify his followers, 'The Wretched'. It is the band's second concept work, as 2017's 'The Great Miasma' EP, followed the ritualistic sacrifice, possession and wrath of a young girl to appease an ancient god.
Formed by Saul McMichael and Lee McCartney of pagan metal veterans Waylander, Drakonis remained a studio project until 2015. They have released three EPs – 2015's 'Ravens Fuel The Sky', 'As They Rot' – which was named Über Rock's 'International EP of the Year' in 2016 (tying with Voivod) – and the aforementioned 'The Great Miasma'.
'Blessed by Embers' was written over a two-year period, being recorded, mixed and mastered by Saul McMichael in his home studio. At the same time Saul, Lee and Steve were working on a Waylander album, with the aim to release both within a month of each other. But due to tour and festival commitments with Waylander, 'Blessed by Embers' was intentionally delayed for an additional 12 months.
'Blessed By Embers' is available to pre-order HERE.
www.facebook.com/DrakonisOfficial