By Monk
It had been an eternity. Well, it seemed like it. But, in fact, it had been a few days short of a year. It just seemed like longer… well, everything has during the Covid era, hasn't it? But here we were, at long last, venturing forth from the dark depths of ÜRHQ and into the bright sunlight of a Saturday afternoon for some much-missed live music – and an all-too-rare moment of sunshine in the midst of the gloom that still surrounds life here in this particular corner of the Überverse…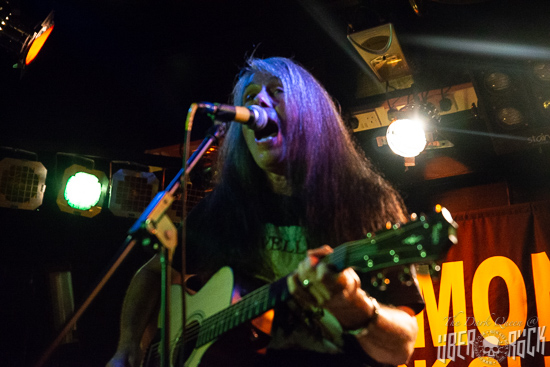 Please forgive me if, before I start into sharing my thoughts on this wonderful night of music, I engage in a short (or maybe not so short) rant… You see, Northern Ireland (where, for the uninitiated, ÜR is based) remains the most backward part of the Über Kingdom when it comes to emerging from the lockdowns which have plagued us for the past 18 months, and especially in terms of allowing live music events to return to the sort of "normality" which we enjoyed in the pre-Covid era. Admittedly, just 24 hours before this gig happened many of the remaining restrictions – such as the need to pre-book tickets and allocated seating at gigs – were lifted, but staging gigs remains extremely difficult, as highlighted by the fact that, on the same day, the Belfast legs of two more forthcoming tours were pulled. And the stupidity of the situation was highlighted by the fact that, as our little party of double-vaccinated middle-age rockers patiently waited to board our train to this evening's destination, it disgorged hundreds of scantily clad teenagers, none wearing masks and probably equally unvaccinated, enroute to not one but two massive outdoor raves…
Anyway, that's enough of the politics, for now at least: as Dave Meniketti sings, it's time to get "on with the show"… And what a show, as, despite having been on the go since 4am, Vaughn proceeds to perform for a solid three-plus hours, pausing only for the occasional sip of Guinness in between a set which not only sees him explore the depths of his 40+ year back catalogue but also share an abundance of anecdotes and back stories, all delivered with a massive smile on his face: yes, he has missed playing in front of an audience just as much as we have missed being part of one. As he asked when he walked on stage: "aren't you a sight for sore fucking eyes?" The feeling was definitely mutual, DV.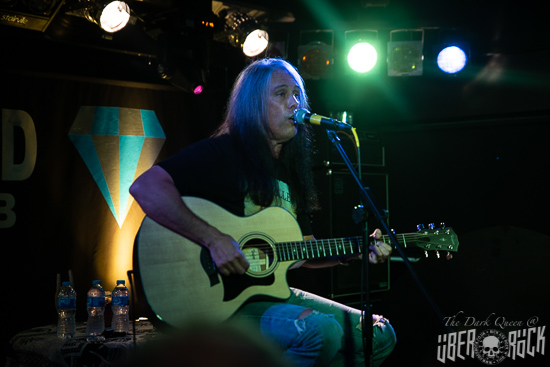 'Is That All There Is?' may seem a somewhat strange question to ask at the start of what turned out to be such an epic performance, but it immediately shows that Vaughn is in terrific voice, rich and resonant and reaching into every corner of this intimate venue – even managing to drown out those inconsiderate assholes who insist on ignoring the promoter's pre-show plea to respect the artist by talking all the way through the show: to quote Derwin, "if you want to talk, go downstairs and do it over the football…".
Over the course of the next 184 or so minutes, DV veers back and forth across the timeline of his career, traversing seamlessly through it with more efficiency than Dr Who and touching virtually every base along the way, from his solo albums through Tyketto's entire career to his brief sojourn in Waysted. In between, he regales us with stories from his career – such as touring with Status Quo – and those behind some of the songs, such as 'Missouri Kid'. There is plenty of humour, but also moments of poignancy, such as when he pauses to recognize the date on which the gig is taking place, before treating us to a redemptive rendition of Springsteen's 9/11 hymn 'Into The Fire' with its rousing message of strength, faith, hope and love.
In among the many lesser-aired songs that can only be played in an environment such as this, there are, of course, the big pops, with 'Standing Alone' and 'Letting Go' both bringing massive singalongs – well, as massive as we can manage at an all-seated gig! There is a brief pause for breath after we emerge from 'The Shadow Of King John' to find that DV obviously has much more to give us, and so frantic 'phone calls are made to re-arrange taxi bookings as he proves that he still has the 'Wings To Fly' by launching into an encore that lasts longer than many bands' headline sets… This part of the set contains some well-chosen covers, including 'Bad Moon Rising' and 'Stand By Me' as well as a flamenco-infused take on 'I Wanna Be Like You', which interject more of the expected big pops, such as 'Burning Down Inside', 'Kelly's Gone' and 'Lay Your Body Down'. Of course, the biggest pop of all, as ever, is kept until the very end, as after taking us all 'Dancing In The Moonlight' (yes, DV obviously knows how to play a crowd) we all prove that we're 'Forever Young'.
This was a gig that, for us, had been a very long time coming… but, boy was it worth the wait. Vaughn once again proved that he is the consummate professional, a stunning singer who obviously has taken care of his voice in order to be able to deliver sets of such duration, and also a fairly decent guitar player to boot. I almost felt guilty going to the bar and the bogs, trying to time my runs for those valuable respites between the songs, such was the mesmerizing effect of the onstage performance.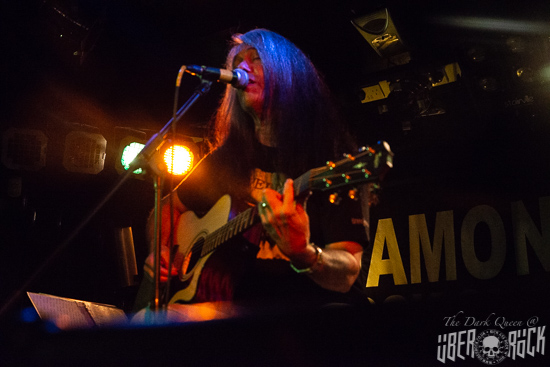 The only disappointment came the next morning, when the fug of the hangovers was compounded by the news that Vaughn's planned December return to the Über Kingdom, as part of his Snake Oil & Harmony collaboration with Dan Reed, had fallen foul to the ongoing uncertainties around travel arrangements… Ah well, maybe next year boys…
PHOTO CREDIT: All photos (and video) © The Dark Queen/Über Rock. You can view our full gallery of photographs HERE.
www.facebook.com/dannyvaughnvox
All content © Über Rock. Not to be reproduced in part or in whole without the express written permission of Über Rock.