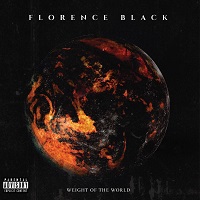 The Tydfil trio that are Florence Black have never lacked confidence in their performance nor ability to write banging songs.  Tristan Thomas (vocals, lead guitar), Jordan (Foz) Evans and Perry "Perks" Davies caught my attention (and subsequently many hours of my time and money) back at Steelhouse in 2015 as a trio of teenagers! The swagger that these guys had back then was incredible to see. 
With three EPs, several singles, a collaboration with Benji Webb, multiple festivals and thousands of miles in the intervening years, there had to come a time when they released an album. So comes 'Weight Of The World', engineered by Romesh Dogandoda… and their long time collaboration has really paid off in this ten-track, 36 minutes and 15 seconds of sheer musical ecstasy (the only 'Ghost' I need).
The one thing you'll notice about these guys is they will never lose your attention in songs that run and run. Each one grabs your attention, shakes you by the head and then drops you in a breathless heap of "WTF was that!".
There is something about being from Wales that binds you to various events and moments in time. Being close to Aberfan, the Merthyr boys never shy away from the influences that they grew up with. This is no more evident than in the opener 'Zulu', a breathless tribute to the Stanley Baker/Michael Crawford film of the same name that usually gets aired at some point during the year on TV in Wales and appears to be every son's rite of passage from their fathers before them.  A full throttle attack to represent the pinnacle of said film.
'Inside Out and 'Black Cat' (which has a bit of an Iron Maiden 'Fear of the Dark' opening guitar riff) are obvious references to mental health struggles that blight almost everyone. Each track has a hook that can get an audience jumping, singing, head banging; as seen at last week's album launch gig, "pitting" is difficult in a small venue, but the crowd managed it to 'Can You Feel It?' (the first single release off the album) and 'The Light'.
Even though the energy of music is evident throughout, there are tracks that also demonstrate the subtlety that the guys can demonstrate such as on 'Sun and Moon', the second single release, and one of my favourite FB tracks, 'Grove Street', which has finally achieved a release on the album.
Florence Black definitely have their own sound, although it does pay homage to many of their musical peers. Low throbbing guitar riffage and driving bass and drums deliver songs that are instantly catchy and recognisable once they have drawn you in. Despite this there is no danger of you getting bored and track skipping either. None of them are long enough, from the introductions through the choruses to the breakdowns and outro you don't have time. If they start slow, they get faster and vice versa but there is never a dull moment.
If you haven't seen them live then you have missed a trick; no one stops still on stage, each component of the band has their own energy, none more than Perry on drums – he is an absolute animal: not only do you hear every beat but feel it viscerally.
This album has been much anticipated by the local community for a long time. The sound is superb, the mix lifts the vocals above the instrumentation (which I always like) and the song writing is fantastic. Well done guys – oh and happy 'WOTW' day, Tristan… I'm currently on play number ten!
'Weight Of The World' is out now. You can get your copy HERE.
Florence Black are due to tour with Bokassa in October: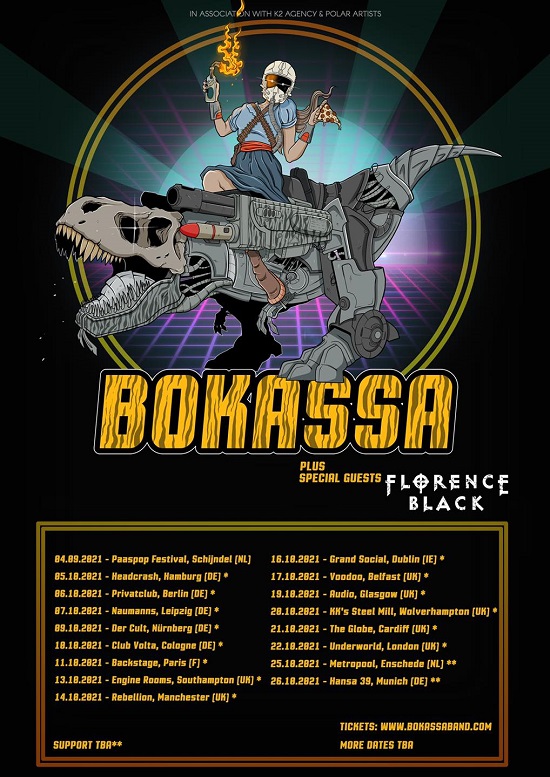 www.facebook.com/florenceblackUK
All content © Über Rock. Not to be reproduced in part or in whole without the express written permission of Über Rock.