By Jonny Bakes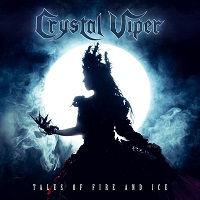 Being a pretty big fan of the fantasy genre, there was no way I could turn down an album that's called 'Tales of Fire and Ice' as it immediately conjured thoughts of myth and magic – totally my scene. And lo and behold, as I scanned through the press release for this album, I could tell I was onto a winner. With promises of songs inspired by myths and fables and a record full of heart and soul, there's every chance that this new album from Crystal Viper could be just what I need to pick me up after a heavy weekend!
Crystal Viper are certainly not fresh faces in the metal world having released an impressive six studio albums and multiple EPs since their inception in 2007. Hailing from Poland, and led by the incredibly talented Marta Gabriel (vocalist, guitarist and composer), Crystal Viper have formed a name for themselves with their take on what is commonly referred to as NWOTHM (New Wave of Traditional Heavy Metal) due to their strong influences from some of the big names of metal in the '70s and '80s. 'Tales of Fire and Ice', however, heralds a subtly different direction for the band with a heavier yet more melodic approach to their music which I would say brings them closer to a Doro/Warlock sound.
To really build up the suspense, the album begins with a short instrumental prelude which lowers your defenses for the aural assault that comes with the start of the first "proper" track on the album: 'Still Alive'. This is almost like a cross between Judas Priest and Battle Beast here, it has that heavy speedy riff pairing up with the melodic vocals of Marta. This certainly gives me a good feeling about the rest of this album as we're off to a strong start!
Things take an even heavier turn with 'Bright Lights' which immediately grabs the attention with a galloping rhythm played out on the snare by Tomek Danczak (who is consistently great throughout the album). Throwing in some downtuned guitars, and a pulsing bassline, this song increases in intensity earning its place as my favourite song on the album. If I were to take a guess, I'm pretty confident that the inspiration for this song is taken from tales of alien abduction which is one of the many mysteries that inspired the themes (and title) of the album.
Part way through the album we're treated to a brief piano solo, 'Interlude', which bears a striking resemblance to the classic 'Tubular Bells' before leading into another particularly strong track 'Under Ice'. The chorus of this one was stuck in my head long after the album had finished with it's simple vocal hook of "frozen secrets, under ice" and the guitar solo was pretty face-melting too!
Throughout the remainder of the album there are more tales of mystery with the, now familiar, backdrop of good old-fashioned heavy metal. There's even a song dedicated to the Dyatlov Pass incident where nine experienced expeditioners died under mysterious circumstances in the Ural Mountains of Russia. 'Tomorrow Never Comes – Dyatlov Pass" has some serious guts to it that will satisfy those headbanging cravings. It's a ripper of a power metal number making it another album highlight for me!
There's certainly a lot here for fans who like their metal steeped in tradition, with an extra helping of melody, and particularly for those who are fans of real strong female vocals. For fans of Judas Priest, Within Temptation's later albums and Doro/Warlock alike, this album will certainly be a worthy addition to the collection. If you're already familiar with Crystal Viper and got a little worried when I mentioned a change of direction, then have no fear! While things are subtly different to the previous albums, I would say that is a definite step forward for Crystal Viper and I hope to see them bring this album on a tour of the Über Kingdom sometime soon!
'Tales of Fire and Ice' is out now. You can get your copy HERE.
www.facebook.com/crystalviperofficial
All content © Über Rock. Not to be reproduced in part or in whole without the express written permission of Über Rock.