By DJ Monk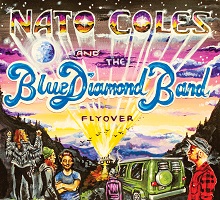 Nato Coles and his band of blue diamonds have been kicking around the Minneapolis rock 'n' roll scene for almost a decade now, during which time they have released a clutch of EPs, one studio album and a live opus. Apparently, they adhere to a two-part code: "be excellent to each other", and "play it loud". Well, they have been rather excellent to us here at ÜRHQ by getting their equally excellent record company, the mightily esteemed Rum Bar Records, to wing this, their second studio album, our wicked way – and it is one which deserves to be played loud… no, make that LOUD!
'Flyover' is ten songs of good old-fashioned blue-collar rock 'n' roll straight from the American heartland, following a path previously trodden by the likes of Mellencamp and Petty, Cohn and Springsteen, Seger and Westerberg. Yes, it's a well-ploughed furrow, and one which is unlikely to deliver many surprises: but, then, 'Flyover' does not seek to do that, with its simple, honest recounting of life in the 'burbs, trailer parks and, of course, on the road, of backyard barbecues and hanging out with the boys, fighting with your girlfriend – and yourself – and looking back to see how your life has brought you to this precise moment in time.
'Flyover' is a joyous collection of tunes, celebrating life and celebrating the most basic qualities of rock 'n' roll, and that is to produce songs which both appeal to your heart and soul and entertain in equal measure. There are dancefloor fillers, such as lead single 'L.P.'s Yard', the cheeky 'Michelle Of The City', the organ-fuelled punky swagger of 'Demolition Man' and the surprisingly finger-clicking Boss-like jive of 'Standing On The Corner Alone', counter parted with moments of reflective melancholia, as on the beautiful 'Milo & The Bars', 'Disposable Camera' (which, in a weird way, reminds me of Payola's 'Cassette') and epic closer 'Avenue Of The Saints', which sorta sounds like something Billy Joe Armstrong might produce if he ever decided to do a country version of 'Wake Me Up When September Ends'.
The end result is a hugely enjoyable album with left me with a massive smile on my face, and DQ tapping her feet along to the infectious grooves, which serves up exactly what it sets out to do, and that is a highly enjoyable listening experience. So, be excellent to yourself and crank this one up loud… sorry, make that LOUD!
'Flyover' is released on 6 December. You can get your copy HERE.
www.facebook.com/natocolesmusic
All content © Über Rock. Not to be reproduced in part or in whole without the express written permission of Über Rock.